World class technology developed over 65 years

For more than six decades in the UK, Leonardo has developed secure communications and surveillance systems including thermal imaging technology, leading the industry with the UK's first military standard production thermal imaging sensor in the form of the TICM (Thermal Imaging Common Modules) back in the mid-1970s.
Today, Leonardo's InfraRed (IR) detectors and Thermal Imaging (TI) sensors, manufactured at the company's Southampton and Basildon sites, play a crucial role in supporting military, security and civil clients operating in the most challenging environments worldwide.
Our IR detectors and TI sensors are at the heart of Leonardo's Electro-Optical/Infra-Red (EO-IR) systems and our used by our customers in many sensing applications such as:
Thermal Imaging Land, Naval and Airborne Systems
Missile Guidance
Space and Astronomy Instruments
Maintaining the company's world-class reputation in this high-technology area can be attributed to Leonardo's continued investment in innovation: from designing and growing IR-detecting semiconductor materials that produce our high-definition focal plane arrays, to advanced electronics and high-performance lens assemblies that provide extended identification ranges in the harshest operational environments.
Thermal Imaging Land, Naval and Airborne Systems

Leonardo's capability to deliver solutions for defence applications is based on extensive experience in the core IR technology elements. This includes the manufacture of high-performance thermal imaging sensors (such as the company's Horizon, SLX Hawk and latest SLX SuperHawk products), the development of stabilised EO directors, platform and mission system integration expertise, and image processing algorithms, all of which are currently supporting a variety of land, naval and avionic platforms.
Airborne
Leonardo's Titan EO Turret provides the 24-hour surveillance capability for the UK's fleet of Chinook helicopters. Largely provided as part of an Urgent Operational Requirement (UOR) in 2009, the TI surveillance performance provided by Titan delivered a fundamental capability for the platform to operate under zero light level (red-illume) conditions contributing to mission success and saving lives during operations in Afghanistan.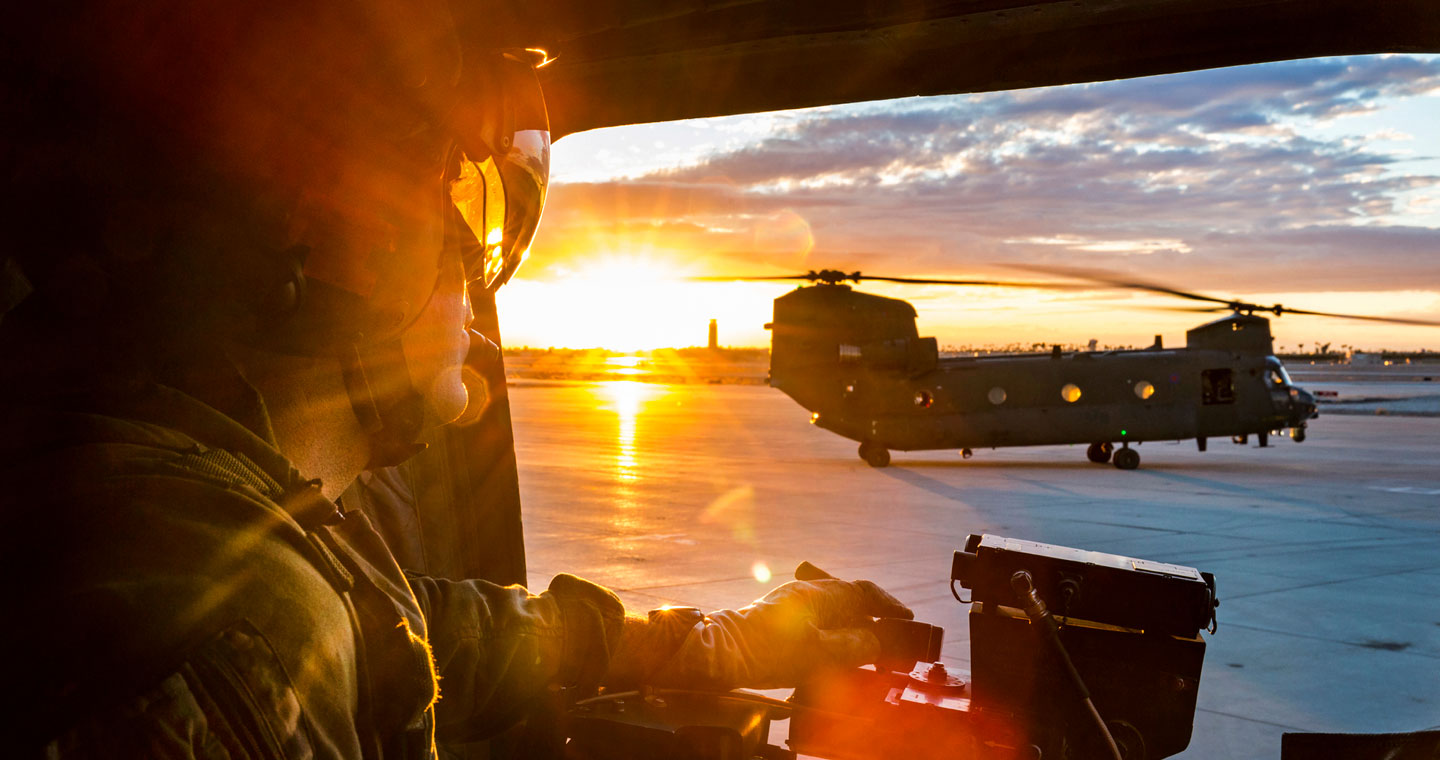 Defence Codex - Issue 12 - "Titan keeps Chinook in flight on darkest of nights"
In 2020, the Royal Air Force (RAF) committed to using Leonardo's Counter-Uncrewed Aerial System (C-UAS) equipment, backed by the company's thermal imaging technology, as part of its ongoing research programme to develop the ORCUS C-UAS system, SYNERGIA. This developing system allows the RAF to evaluate a range of capabilities including advanced radar, electro-optic and radio frequency sensors and an electronic attack countermeasure, providing a national standby capability to support emergency services across the UK in crisis situations.
This capability is of high importance to national security due to the serious nature of the threat posed by rogue drones to the UK, such as when Gatwick Airport was forced to temporarily close in December 2018 due to a series of UAV scares. Thankfully, by operating the Leonardo Falcon-Shield C-UAS, the RAF was able to confirm the absence of any 'hostile or malicious' drone activity and allow air activity to resume, just in time for Christmas.
Naval
In May 2021, the Royal Navy's UK Carrier Strike Group (CSG21), which left Portsmouth for a seven-and-a-half month roundtrip to the Pacific. At the head of the fleet is HMS Queen Elizabeth, which uses Leonardo's thermal imaging technology as part of its flight path monitoring system to allow aircraft to land safely on-board. Elsewhere, our SLX-Hawk camera forms part of for the Automatic Small-Calibre Gun (ACGS) system that provides protection for many of the Royal Navy's vessels, while the fleet's Merlin and Wildcat helicopters utilise Leonardo's radars and Electronic Warfare equipment as part of their state-of-the-art mission systems for long-range detection.
Land
21st century homeland security is a complex and exhaustive operation, to which Leonardo provides multi-functional integrated solutions based on state-of-the-art technologies, including border forces with extended sensor coverage and surveillance capability.
Our thermal cameras play an increasingly key role in border protection, alongside other technologies such as radars. The Horizon Medium Wave Infra-Red (MWIR) thermal imaging sensor employs the latest focal plane array technology to meet long-range surveillance and target identification requirements. It can detect vehicles at up to 50km and personnel up to 30km, enabling a single camera to monitor hundreds of square kilometres of terrain. The newest addition to our thermal camera range the SLX SuperHawk Camera utilizes the latest HD Detector adopting a very small (8µm) pixel pitch. This still enables long-range surveillance capability but in a more compact solution for mobile applications.
Our thermal imagers, integrated into the NERIO VLR (Very-Long Range) and ULR (Ultra-Long Range) family of Surveillance and Threat Acquisition products, provide an enabling capability for the provision of Border, Coastal Security and Critical Infrastructure Protection in both a fixed and mobile deployment.
Missile Guidance
Leonardo's Missile Guidance Electro-Optical/Infra-Red (EO-IR) systems provide our end users with precision target imaging. Our Thermal Imaging technology is used within these systems to increase target selection accuracy in today's increasingly challenging engagement environments.
Leonardo have a track record of cutting edge missile guidance technology capability, with significant company investment into the key technology trends of the future, ranging from optics to detectors. This has led to our ever growing missile guidance product range, from high performance bespoke to low-cost solutions.
Space and Astronomy Instruments
Leonardo's latest SuperHawk Detector was used in a research programme to demonstrate the potential of infrared satellite sensing technology to address global challenges, such as climate change and maritime security. The detector was at the heart of the imager developed as part of a research collaboration with Surrey Space Centre to enable Satellite Vu, a specialist in Earth observation technology and services, to demonstrate the capability in flight trials.
Leonardo are also the leading manufacturer of DLATGS detectors. Made from DLATGS (deuterated L-alanine doped triglycene sulphate) crystals developed and grown at Southampton, these sensors are used for very high performance requirements, such as Fourier-Transform Infrared Spectroscopy (FTIR), a technique used to identify materials by observing its chemical properties with IR.
In 2013, Leonardo supplied single element Pyroelectric DLATGS IR Detectors to the State University in Arizona, who developed the IR instrument for the Thermal Emission Spectrometer (OTES) for the OSIRIS-Rex Mission. Previously, similar DLATGS detectors had been used for the Mini Thermal Emissions Spectrometer on NASA's Spirit and Opportunity Mars Rovers.
Meanwhile, slightly closer to home, Leonardo sensors have been installed in the Infrared Atmospheric Sounding Interferometer New Generation (IASI-NG) programme. Developed in partnership with Airbus Defence & Space, France's Centre National d'Etudes Spatiales, and the UK Space Agency, the infrared sounder can help the IASI-NG programme assess effects of greenhouse gasses by measuring and analysing the temperature and water vapour profiles of the Earth's atmosphere. On a more regional scale, it can also improve very short-range forecasts by monitoring atmospheric instability and cloud structure.
Continued innovation
Maintaining Leonardo's continued status as a world-leading producer of IR Detectors and thermal imaging sensors is due to the company's ongoing investment in innovation and commitment to research and development.
This investment, combined with the experience of the experts working at our facilities across the UK, will see Leonardo continue to design and manufacture the best thermal imaging solutions in the world.