Southampton has been home to Leonardo and its predecessor companies' centre of excellence for infrared detectors since the 1950s. In 2014, the company opened a new £10m facility on Millbrook Industrial Park, bringing together people from three previously separate sites on the South Coast. The consolidated location now houses around 400 staff and hosts some of the company's communications, optronics and air traffic control products, along with several key airborne and marine technologies.
In October 2018, the Southampton office was renamed Nicolson House, after the actions of Flight Lieutenant Nicolson VC who achieved one of the Second World War's most extraordinary heroic feats, fighting off German planes above the skies of where our Southampton office now stands. This ceremony was one of several initiatives undertaken by Leonardo to mark the centenary of the Royal Air Force and the achievements of all those who served during its first 100 years.
Transport links
The Southampton site is located just off junction three on the M27, and 15-20 minutes by car from Southampton Airport, which offers domestic UK flights, as well as flights to many European destinations. Trains run from Southampton Central to London Waterloo at regular intervals, with journey times being about 80 minutes.
What the local region offers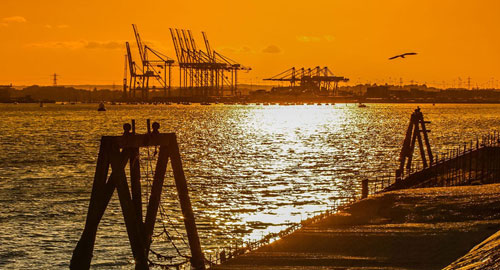 Given Southampton's prime location on the south coast, it should come as no surprise that the most prominent industry is maritime-based. Southampton is the busiest cruise port in the UK and is a gateway to Isle of Wight, Europe and worldwide holiday destinations.
The city is home to two renowned universities, with Southampton University ranked 17th in the 2017 Complete University Guide. You can lose yourself for hours wandering in and around Ocean Village Marina – home to shops, cinemas, restaurants and bars. If you fancy a night of live entertainment, however, Southampton's beautiful O2 Guildhall gives you the chance to see everything from Katie Melua to circuses to lectures by Professor Brian Cox. Culture addicts are sure to love the Southampton City Art Gallery, the John Hansard Gallery and the Mayflower Theatre (the largest in southern England). The City is also within easy reach of beautiful coastal beaches and stunning landscape in the New Forest.
Southampton has also given us legendary British director Ken Russell, beloved comedian Benny Hill and UK garage superstar Craig David!
Southampton contact details
First Avenue, Millbrook Industrial Estate, Southampton, Hants, SO15 0LG
Tel: +44 (0)2380 514100