It is a cold winter's night in December 2015 and London's Leicester Square is alive to the sound of John Williams's iconic fanfare. Jedis and Ewoks mix with Mandalorians and Wookies with a sense excited anticipation.
Suddenly the mood changes as the imposing opening bars of the Imperial March fill the air and a patrol of stormtroopers, led by Darth Vader, march onto the red carpet.
Under one of the stormtroopers' helmets, Leonardo Software Architect Rob Denehan smiles to himself, not quite believing what he is a part of.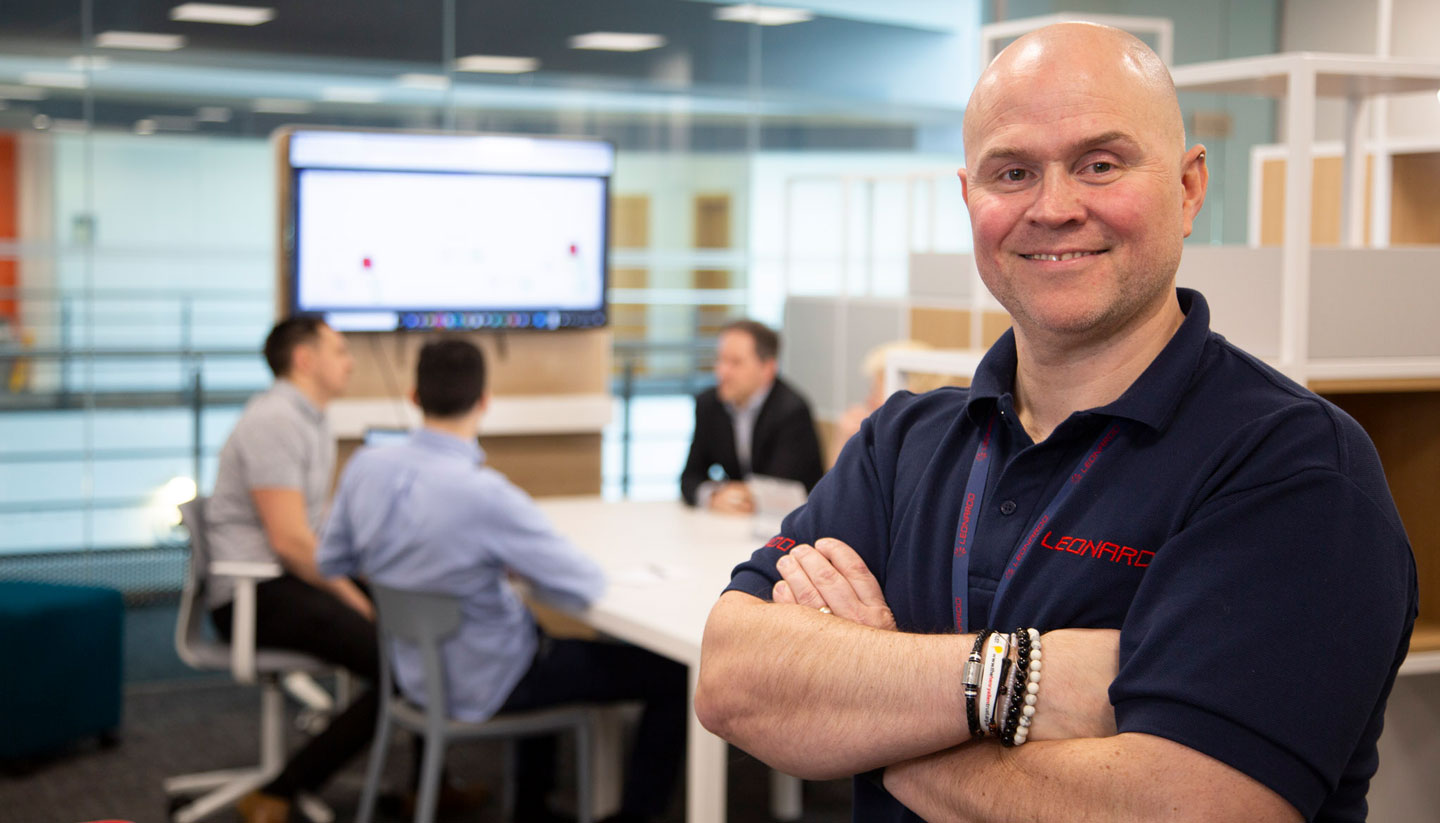 "It was all quite surreal – a mixture of excitement and nervousness thinking that the eyes of the world's media and Star Wars fans were watching. I thought to myself – just don't trip up!"
Rob's love of Star Wars goes back to his childhood as the trilogy was coming to the end. Although he was too young to experience the first two films in the cinema, he had grown up with them on TV before getting first his first Star Wars cinematic experience with Return of the Jedi.
"I was captivated by the entrance of the stormtroopers in the opening sequence of the original film. Blasting through the door I kept thinking who are they, what's their story and how awesome do they look in their armour!"
This love of sci-fi sparked Rob's interest in technology from a young age and set him on a path that would see him graduating from Hertfordshire University with a BSc (Hons.), Computing and Applied Statistics.
Shortly after, Rob began his career with Leonardo. Like many within the business, he is now celebrating 25+ years working on exciting technology-rich programmes – each presenting a unique software development challenge.
"One that sticks in my mind is my first project, which saw me contributing to the development of the Electronic Warfare Control Processor," recounts Rob. "This was a key part of the self-protection system of the Royal Navy fleet of aircraft carriers and Type 42 destroyers.
"Not only did I develop software that achieved the required standards of qualification and entered into service, I also had the opportunity to visit the platforms to install the software, interact first-hand with end-users and finally decommission the system (including stripping out the hardware) as the ships were retired.
"Fancy letting a software engineer loose with a screwdriver in the ops room of an aircraft carrier! It was a real beginning-to-end software development lifecycle."
The company continues providing exciting opportunities for Rob. "Leonardo is a big company that can offer numerous, varied development opportunities within an exciting domain where you will be supported in your chosen career path. Even though I have been with the company for 25 years, the work is still varied – from the naval domain to helicopters to fast jets – so at no point has my career felt stagnant."
Rob is currently part of the company's Integrated Mission Solutions business and is helping to develop and document the software architecture of the next generation of mission data tools. "These tools are predominantly concerned with generating mission data to enhance the capability of sensors and effectors on rotary platforms and fast-jets, and subsequently performing post flight analysis of data recorded during a mission," explains Rob.
Just as Rob's hands-on career in STEM (Science, Technology, Engineering and Mathematics) has continued to develop, so too has his passion for Star Wars – the event that had originally sparked his interest.
"It all STEMs from Star Wars," says Rob (pun intended), "so it was only natural that my interest in that Universe (far, far away) wasn't going to diminish.
"I first met the Garrison when I attended the Star Wars Celebration event in London back in 2007 and was blown away by how accurately they portrayed the characters. A couple of years later my wife and I took our young daughter to Disneyland Paris and I saw the excitement and look of complete awe on her face when she met her favourite characters. I thought how wonderful it must be to get the opportunity to cause that reaction. It was in that moment that I was inspired to contact the UK Garrison to find out more. When I learnt about the charitable side to the work they did – 'Bad guys doing good' – my mind was made up. I became a 'cleared' member of the Garrison in December 2011."
The UK Garrison is a non-profit organisation, which forms part of the worldwide 501st Legion formed by Star Wars fans Albin Johnson and Tom Crews in the USA in August 1997.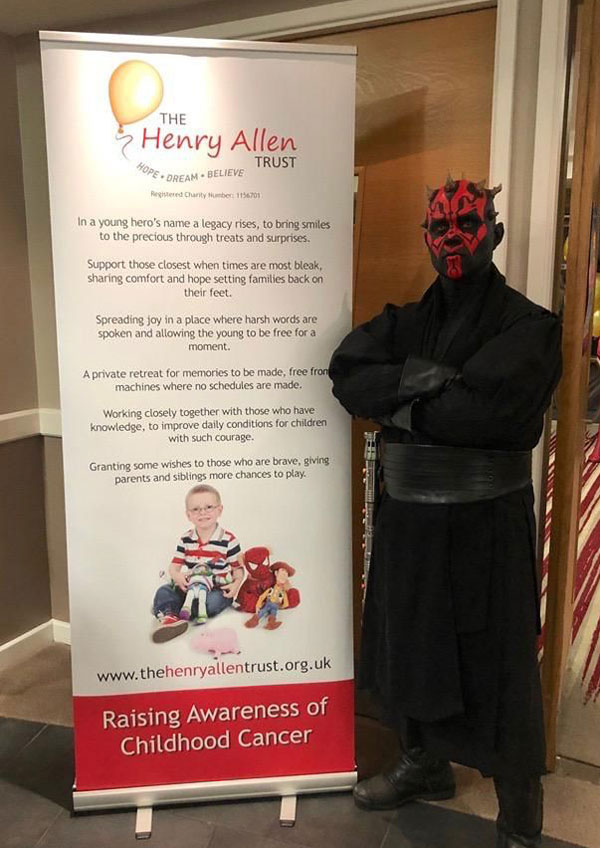 "We costume as Star Wars characters attending various events around the country for free to support big and small charities. I costume as either a Stormtrooper (as I did for the Force Awakens premiere) or the Sith Lord, Darth Maul.
"In 2022 we attended the Leonardo Family Fun day at our Luton site (where I work) and helped raise funds for the site's chosen charity, Cancer Research UK. It was fun to mix my work life with my Garrison life. I am a completely different person when I am a Star Wars character and to see people's different reaction to me as Darth Maul was quite empowering!
"These two worlds are something that keep inspiring each other. Each year, Leonardo runs 'robot wars' tournaments at our local sites. Schools and clubs from our local community build and compete the 'Rampaging Chariots' against each other. I am currently working to introduce some of our talented 'droid builders' that work with the Garrison to our Rampaging Chariots team so that droids like R2D2 can visit our Luton event and show the variety of opportunities engineering skills can offer."
The enduring pull of the universe means that the 501st UK Garrison and its 500+ members are constantly in demand to make appearances at corporate and community events around the UK.
However, the events that mean the most to Rob and the other members (and that best demonstrate the power that the Force around the world) are when the Garrison visits children hospitals and charities.
"We visit so many hospitals, such as the John Radcliffe in Oxford and the world-famous Great Ormond Street, to bring some smiles to what is often a very tough time for children and their families," says Rob.
"One of the children we got to meet over the years was Henry Allen. He was an amazing boy who just loved Star Wars. When Henry sadly passed on, his parents Mark and Dawn, asked the Garrison if we would be his pall bearers. It was one of the toughest things I've ever done, but it was so important to Henry and his family for us to do it and it was an absolute honour to be there for him. Today, we still appear at Henry Allen Trust events organised by Henry's parents."
Henry's mother, Dawn Allen, who founded the Henry Allen Trust, is one of the Coronation Champions recognised in honour of the Coronation celebrations, for being among the UK's most extraordinary volunteers.
Henry's story and the work of Rob and the UK Garrison, is movingly brought to life in the Netflix documentary 'Heroes of the Empire', which tells the story of the UK Garrison and the work that they do for communities across the UK. As Rob is quick to point out, "it shows why we do what we do far better than I can put across in words here."
It is fair to say that the UK Garrison is definitely a Force for good.