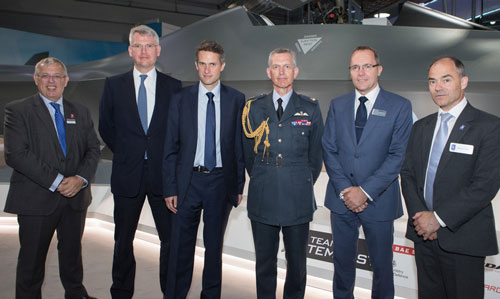 Under Team Tempest, Leonardo is working with the RAF Rapid Capability Office, BAE Systems, Rolls Royce and MBDA to provide the technologies, knowledge, skills and expertise to develop a Next Generation Combat Air System capable of operating in the 2040+ environment.
The contract, which was announced by Defence Secretary, Gavin Williamson MP at the 2018 Farnborough International Air Show, forms part of the ongoing Future Combat Air System Technology Initiative (FCAS TI) programme and will see Leonardo develop the Sensor and Communications Systems technology for the next generation aircraft.
Ensuring the Future of UK Aerospace

Leonardo has been actively involved with the UK Government on various activities to assess the importance of the UK defence sector to UK prosperity and its role in projecting the UK's influence around the world. As part of this activity, Leonardo has supported governmental work to highlight the importance of the aerospace sector to the UK, with a particular emphasis on retention of skills, knowledge and expertise.
The company has been working with the UK Ministry of Defence on the FCAS programme since 2012, and on its predecessor FOAS, developing concepts for the next generation of Sensor and Communications technology. As part of the UK Combat Air Strategy, it will ensure that the UK maintains the technological competence necessary to retain military freedom of action. Team Tempest will mature a broad range of technology areas and concepts relevant to a Future Combat Air System; including open mission systems architecture; sensor systems and effectors, power and propulsion and airframe technologies.
Developing world-unique capabilities, establishing mutually beneficial partnerships in targeted technical areas, and lowering barriers to collaboration will allow the UK to be in a favourable position for a Next Generation Future Fighter acquisition programme. Aligned to the Combat Air Strategy work, UK Ministry of Defence Head Office will develop potential future acquisition partnerships. Team Tempest will also identify and support the initiation of targeted technical cooperation with governments and industries of these partners where this is of mutual benefit for the parties.
Leonardo's contribution to Team Tempest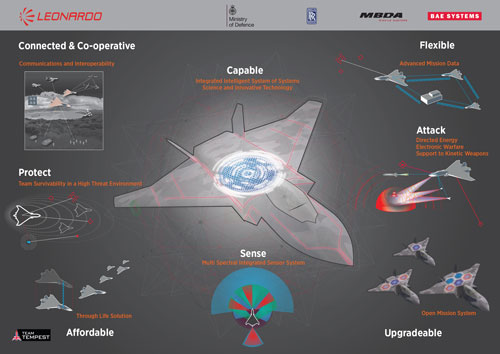 Leonardo will mature the critical technologies to deliver next generation sensing and communications alongside the advanced open-system architectures that will deliver a step-change in how the sensors are employed within an operational system. It will mature the requisite technologies through a systematic approach to feasibility studies, lab tests and rig tests.
Key capabilities planned to be demonstrated include: integrated sensing and defensive aids architectures and information fusion; advanced Electro-Optic/Infra-Red sensor technologies; advanced Multi-Function Radar Frequency sensor technologies; all-aspect broadband Electronic Warfare capabilities; and robust high bandwidth communications. These activities will culminate in the integration of hardware, software and enabling architectures onto a flying test-bed aircraft, providing a clear demonstration of UK leadership and facilitating further development tests on the path to a Next Generation system.
Current Opportunities

With such a broad range of technology developments over the next decade, followed by a full-scale Team Tempest development programme, Leonardo is looking to attract and develop the next generation of world-leading suitably qualified and experienced personnel (SQEP) for our business. See our latest Team Tempest opportunities
Press release (19 March 2019): UK Government launches opportunity for industry to collaborate on the development of next-generation air power