The UK Ministry of Defence is currently focused on the development of emerging aircraft protection capabilities and is actively engaging with industry to deliver Next Generation Air Survivability (NGAS) for its aircraft fleets.
To this end, in July 2021 the UK MOD – led by the Royal Air Force (RAF), Defence Equipment & Support (DE&S) and Defence Science and Technology Laboratory (Dstl) – entered into a Strategic Partnership Arrangement (SPA) with an industry consortium that includes Leonardo playing a central role.
The collaborative team delivering this is called Team Pellonia, which will collectively work to protect the UK's interests, a critical factor when dealing with strategic assets such as aircraft survivability systems.
The industry team is formed of Leonardo UK, Thales UK and Chemring Countermeasures. This enterprise approach draws in technology from across the UK, bolstering the supply chain and promoting the UK Government's prosperity and social values agendas. It also ensures that UK Defence maintains an onshore capability. This approach can be adapted to meet the needs of export customers.
Leonardo's Modular Advanced Platform Protection System (MAPPS) is at the heart of the Team Pellonia offering. Thales UK is providing its Elix-IR threat warning system that integrates with MAPPS, as well as the Vicon XF intelligent countermeasures dispenser, while Chemring is delivering the chaff and flare expendables. This gives a complete, multispectral, integrated DAS (IDAS) that can detect and defeat radio frequency and infrared threats with fully autonomous countermeasures, and is truly a best-in-class electromagnetic warfare (EW) solution.
Leonardo already successfully delivers the Praetorian Defensive Aids Sub-System (DASS) for the RAF's Eurofighter Typhoon, as well as self-protection systems for the UK's AW159 Wildcat, AW101 Merlin and Apache AH-64E helicopters. The industry team is additionally already on contract to deliver advanced protection systems for the RAF's Shadow R2 intelligence surveillance and reconnaissance (ISR) aircraft and E-7 Wedgetail airborne early warning and control (AEW&C) fleets.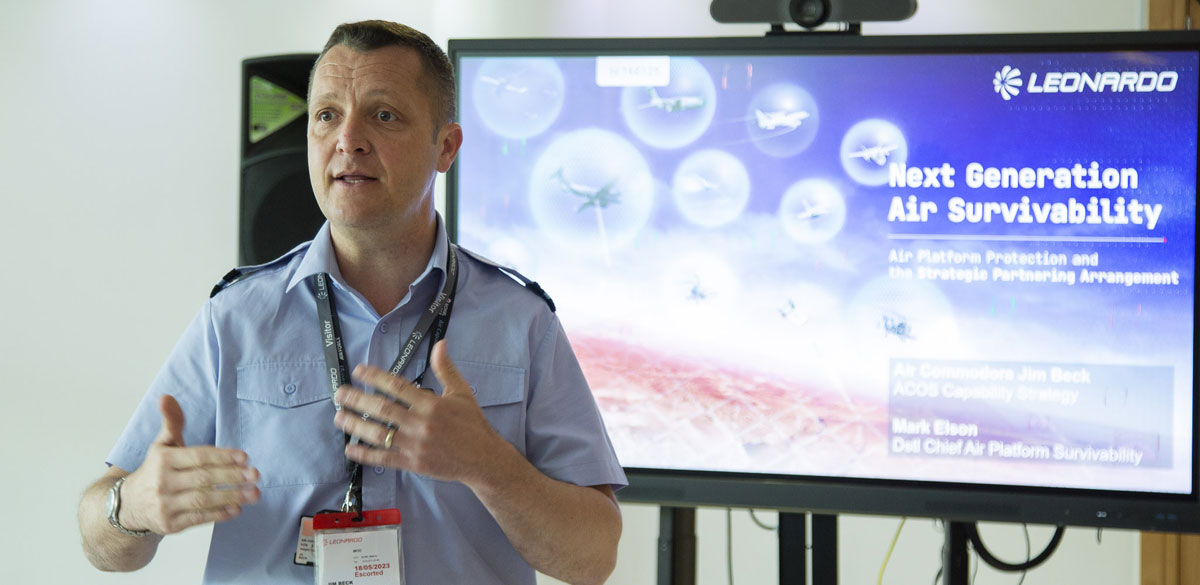 Leonardo is also a founding industry partner of the UK's Team Tempest, which is developing a next-generation fighter under the Global Combat Air Programme (GCAP). Technologies developed under existing programmes will benefit this type of future work, while new developments will also be fed into in-service systems, ensuring that the UK customer receives best-in-class capabilities in the most cost-effective and efficient way.
This teaming is a continuation of the well-established partnership Leonardo has with the UK MOD, building on the successful delivery of existing DAS capabilities with the added benefit of NGAS and ensuring commonality with in-service systems.
A de-risked approach
The industry team has been working extensively with the MOD and aircraft primes since the agreement was signed in 2021, collaborating to undertake platform feasibility studies that will de-risk the future integration of MAPPS onto new aircraft types.
A key component of the feasibility studies is to identify the most capable, value for money solution for the customer. When reviewing costs versus capability for alternative DAS configurations, the studies enable key stakeholders to quantify risk and make informed decisions on financial resourcing.