When did you start your apprenticeship?
I started my four-year Degree Apprenticeship at the Leonardo Luton site in September 2020, aged 18.
What did you study at school?
At GCSE, I picked Computer Science, D&T: Resistant Materials and Geography as my optional choices. I completed these alongside seven other subjects including Maths and English.
After this, I left school, eager to start gaining industry experience and getting paid. However, I did not want to stop my formal education, so embarked on an engineering apprenticeship, aged 16. While completing this apprenticeship, I gained a Level 3 BTEC Diploma in Engineering and found that I wanted to specialise in electronics. In particular, I was drawn to designing critical systems due to the cutting-edge technology involved.
What apprenticeship are you completing?
I am currently in the second year of the Embedded Electronic System Design and Development Engineer Degree Apprenticeship (Apprenticeship Standard: Level 6).
My job title is Electronic Engineering Degree Apprentice.
I attend the University of Hertfordshire part-time and spend the rest of my working week split between working at Leonardo's Luton site and remotely from home. I am in my fourth rotational placement; each of these placements has lasted from three to six months. The opportunity to rotate around different departments is great as it provides a wide-range of experience, along with helping determine which direction you wish to take your career. Even as an Electronics Apprentice, I will not just be limited to rotating around the various sub-departments in the function and will still get to experience other fields such as Software and Mechanical Engineering.
Why did you think an apprenticeship was the right path for your career development?
One of the key elements that made me embark on the apprenticeship route was the idea of entering the 'real world', applying abstract concepts to design solutions. Having really enjoyed the design process in my school D&T lessons, the aspect of doing this as a profession so early on in my life appealed to me. Finally, an integral part of apprenticeships, especially with Leonardo, is the 'earn while you learn' aspect – you will receive a competitive salary in addition to getting your qualifications (e.g. a degree) fully paid for. Working alongside field specialists while completing a relevant degree and then being able to apply the very concepts just learnt was also a real pull-factor for me.
Why did you join Leonardo?
Leonardo is a multinational company specialising in aerospace, defence and security – all industries that require cutting-edge technological solutions, something that I wanted to be involved with. It is also one of the top-ten aerospace companies in the world, so I knew they would have the resources to properly invest in their people. They are known for being especially good for people early in their careers – both in relation to pay and development opportunities. Leonardo stood out from the crowd for me and if I had not been accepted onto their degree apprenticeship scheme, I would have accepted a full-time university offer as opposed to working for another company.
Tell us what you do in a typical day / week
I typically work five days a week, with my time split between attending university and work. I usually will have one day a week of delivery from the University of Hertfordshire towards my BEng (Hons) in Electrical and Electronic Engineering. In addition to this, I can take up to another (paid) day's worth of time completing tasks such as degree coursework. For the rest of the week I spend my time working in placement. My placements work varies greatly depending on whichever department I am in. I have tested and verified RF/microwave circuits, modelled and simulated Radar systems, written software to evaluate fighter jets, and am currently designing a circuit board that will be used to test electronic sub-systems used on aircrafts.
What do you enjoy most about your job? Has anything surprised you?
The thing I enjoy most about my job is the satisfaction of contributing to real company projects and having an impact on the business at such a young age. I also really appreciate the opportunities to collaborate with so many different fields, gaining not just an appreciation for other departments but a holistic view of the product lifecycle relevant to me as an aspiring engineer.
The amount of extra-curricular and enrichment opportunities available on an apprenticeship at Leonardo has really positively surprised me. They genuinely invest into helping you become the best professional version of yourself possible while ensuring there are fun and engaging activities available which I found has really helped with my wellbeing.
What have been your biggest achievements at Leonardo so far?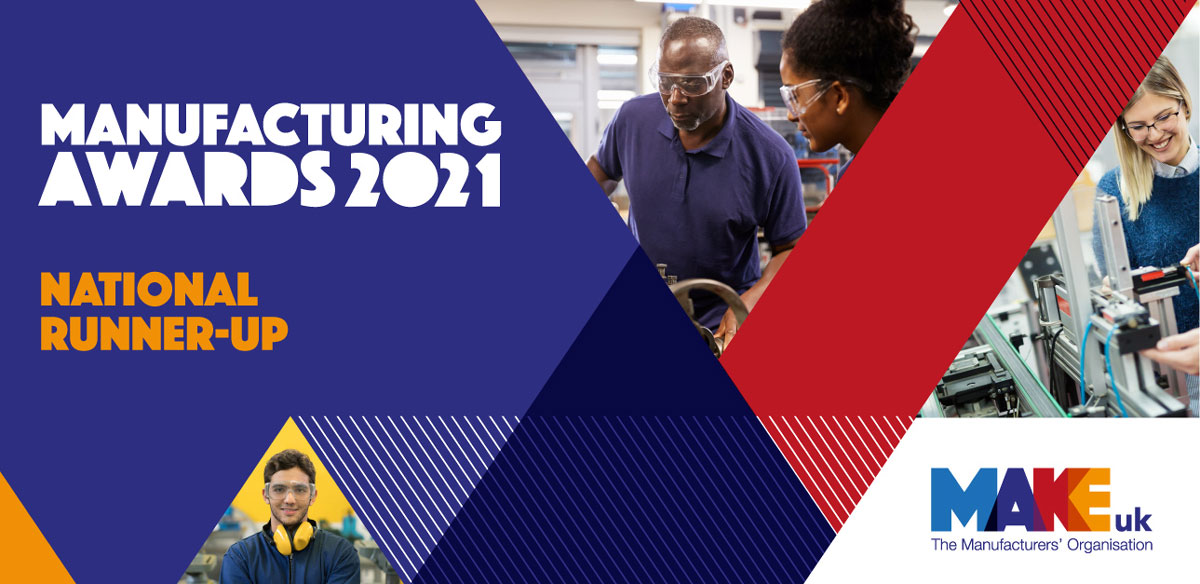 My biggest achievement at Leonardo so far would not actually be any of the work or designs I've contributed to major programmes, but in fact relates to one of the enrichment activities supported by the company. I am a member of the Charity Committee and was the Event Lead (and one of the participants) for our company skydive which managed to raise over £6,000 for the Alzheimer's Society.
In January 2022, I was proud to be named runner-up at the 2021 Engineering Apprentice Rising Star Award at the Make UK Awards national final. This was after I'd won the competition's Midlands & East Regional Award in October 2021.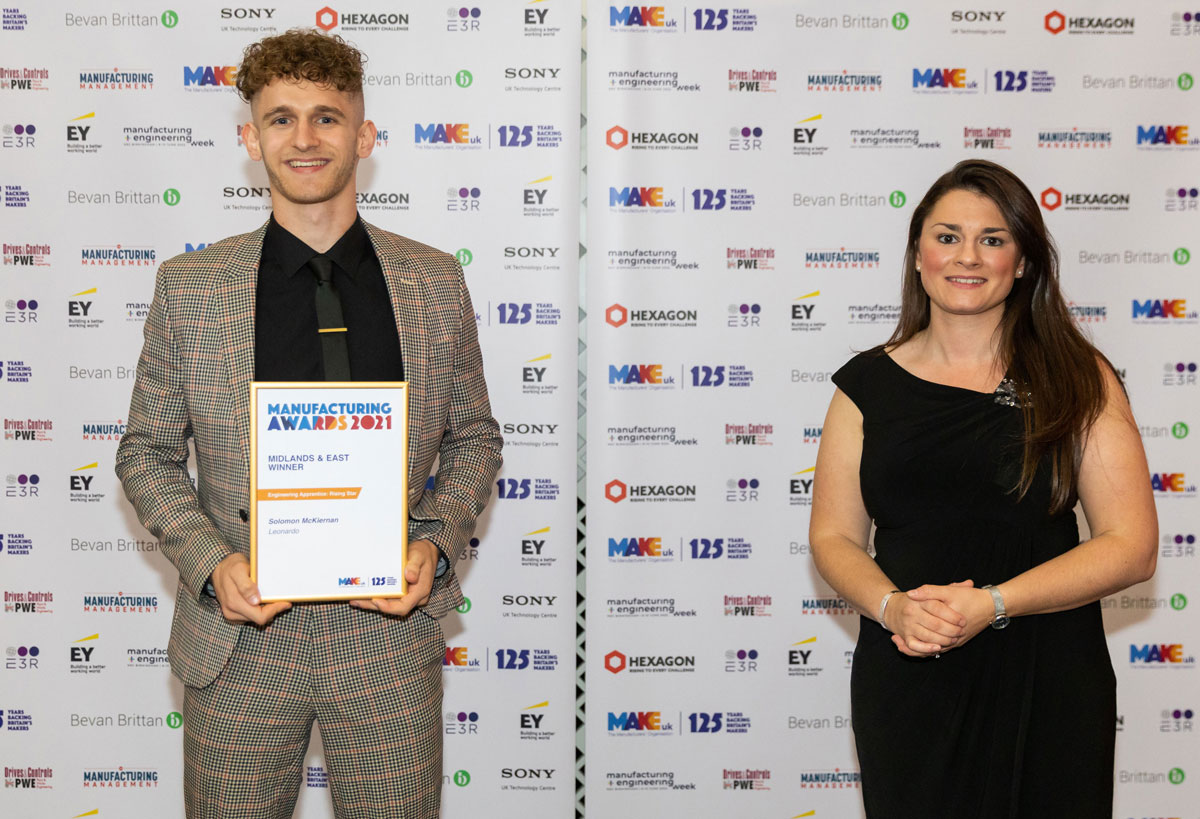 I have to say that many of the company enrichment opportunities, such as becoming a STEM Ambassador and getting to speak at schools, have been invaluable to me. I referenced these in my presentation for the Leonardo UK Apprentice of the Year award, which I also won in 2021.
Who has been your biggest influence or has helped you in your career?
First and foremost, I'd like to thank my parents. They have always supported me, pushed me to be my best self and instilled the self-drive that is the foundation to my success today. I remember my mum trying to teach me the four basic maths operations before I'd even covered them in school and my dad's constant enthusiasm for technology (e.g. taking me to BCS events when I was younger) – an enthusiasm which rubbed off on me.
All my school teachers and college lecturers throughout the years have had a huge influence on me; so many of them laid the groundwork for the knowledge, skills and behaviours which are now critical to my career. In particular, I'd like to thank my D&T, Maths and Physics teachers, Mr Prudden, Mr Philpot and Mrs Bonham.

What related activities are you involved with outside your specific job role?
I am an active member of the Charity Committee and a STEM Ambassador. I am also the Student Representative for my university cohort.
In addition to these activities, I was the Project Leader for Leonardo's participants (Team NextGen) in the 2021 IMechE Apprentice Automation Challenge, where we designed and produced a functional Smart Mirror aimed at enhancing home-workouts. I was also heavily involved in the system and electrical design/development for this project. As the winners of the 2021 IMechE challenge, we were invited to present our product at the Smart Factory Expo in Liverpool.

What are your career aspirations?
I aspire to become a full-time Engineer within the Electronics function, specialising in either antenna, firmware, hardware or microwave engineering. I want to constantly to push myself, continually expanding my knowledge and skillset, aiming to be the best I can be at my job. After completing my apprenticeship, I plan to eventually become a Chartered Engineer (CEng) with the IET.
Why should someone consider an apprenticeship at Leonardo?
I have found that Leonardo really invests in their people, not just financially but also by having experienced staff dedicating their time to help develop individuals. They have very well-established apprenticeship schemes, which offer the ideal start to your future career. You will be given responsibilities as an apprentice, which will help shape you into a robust and valuable individual that is a genuine asset to the business.
On top of this, the company offers a large variety of benefits and extra-curricular actives to promote a healthy work-life balance such as flexitime, five-a-side football and discounted gym memberships.