Our network groups are the place for like-minded people within the company to come together, help shape engagement, and lead associated initiatives to deliver an inclusive and consistent experience for everyone in the UK.
The new Armed Forces network group is open to all Leonardo employees, and is focused on supporting those who have served in the Armed Forces, whether as a Regular or Reserve. The group also provides a forum for those spouses or partners of serving members as well as allies who wish to learn more about the experiences of those who the company works alongside day by day.
Launching this network group builds upon Leonardo's long-standing support for the Armed Forces Community, highlighted by being a signatory of the Armed Forces Covenant and being accredited with UK MoD Employer Recognition Scheme Gold Award. The company also has close relationships with military charities such as the Armed Forces Para-Snowsport Team, Combat Stress and has most recently sponsored the Royal Air Force Association's "Finding it Tough" mental wellbeing campaign.
The Executive Sponsor of the Armed Forces Network Group is Leonardo UK Sales Director for the Electronics business, Dave Appleby. After 25 years in the Royal Air Force as a Tornado Navigator and in senior strategic roles with the Ministry of Defence including Head of UK EW Policy, Dave was keen to get involved.
"Taking on the role of Exec Sponsor means a great deal to me. Having left the RAF 12 years ago, I recognise that the move to civilian life can take some adjustment. It is important that our business has a forum to ease this transition and help our people perform well from the very start of their new career. We pride ourselves in supporting our veterans, reservists and military families and being part of the Wholeforce ethos. I'm really looking forward to bringing our Network to life, working with colleagues across the business to make it a success."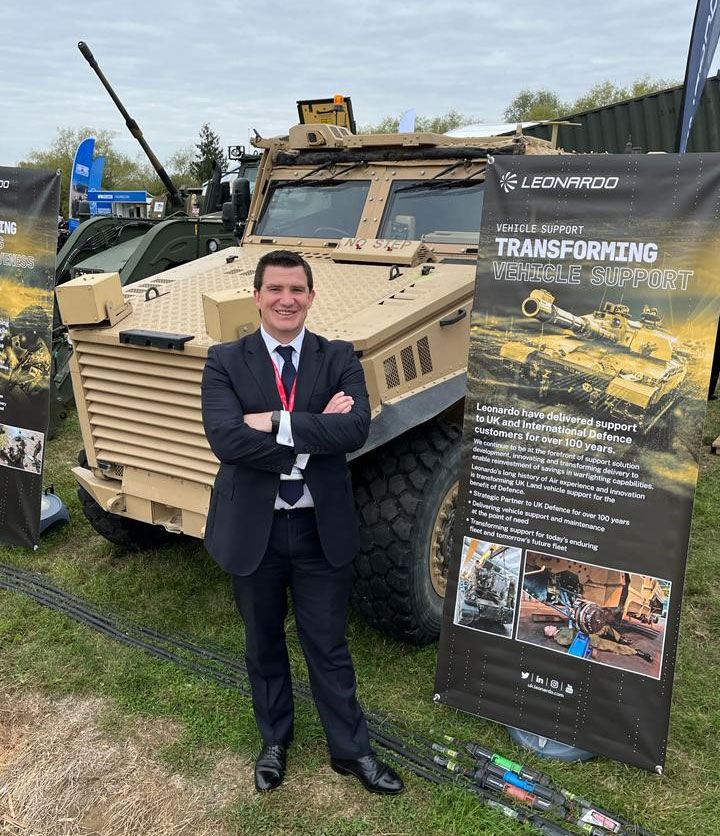 The Armed Forces Network Group Chair is Business Development Sales Manager, Richard Varley (pictured right) – a veteran of the UK Armed Forces.
Richard joined Leonardo after serving in the Royal Artillery as a Major. On joining the company, he was keen to help others transitioning to civilian life.
"When I started at Leonardo, I realised that there was an opportunity to support people like me by building a new network. I knew I could help those with an Armed Forces connection by offering support where and when required, and rallying support around annual events like Remembrance Day and Armed Forces Day.
"At this time of year most of us, not just those who have served, wear a poppy and pause on the eleventh hour of the eleventh day of the eleventh month to commemorate the moment the guns fell silent at the end of the Great War.
"Of course, Remembrance Day has since come to represent all those lost from the beginning of the First World War right up to present day, which for many of us means that we are remembering our grandparents' and parents' generation as well as friends and colleagues from more recent conflicts.
"We will remember them."
Rachel Ruxton, Leonardo's Head of Inclusion of Diversity in the UK spoke of her excitement about the new Network Group.
"We are proud to be an Armed Forces-friendly organisation and to promote this across our organisation either through our employment of veterans; our support to employees who choose to be members of the Reserve Forces; or our support of local cadet units.
"Armed Forces will sit alongside our six other network groups: Carers, Enable, Equalise, Ethnicity Inclusion, Pride and Wellbeing."