Sophie, a Production Material Support Planner who recently completed her Leonardo apprenticeship at our Yeovil site, was named winner of the Business Apprentice Final Year award. Kayley, a final year craft mechanical apprentice also based at the Home of British Helicopters, won the Engineering Apprentice Rising Star award. Both had made it through to the Make UK Manufacturing Award national finals having won their categories at the regional finals (South West) at the end of last year.
Reflecting on her win, Kayley said: "It was fantastic to see our hard work pay off on the night and receive congratulations from across Leonardo. I am extremely proud to be given this award as a female shop floor apprentice, and hope that the next stage of my career is as successful, as I take on a degree apprenticeship with the company."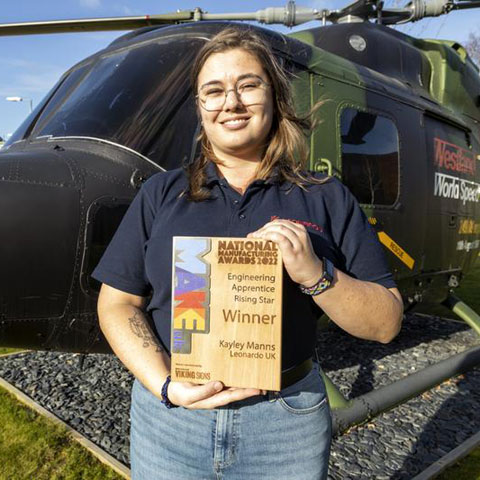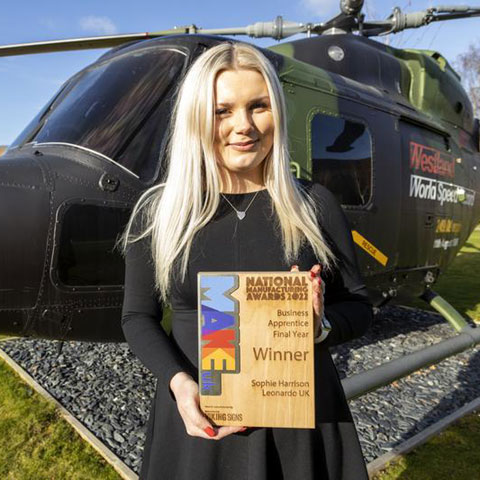 Sophie was proud to be recognised at the ceremony, adding: "I feel honoured to receive the national award whilst representing a company like Leonardo. This is a huge milestone in my career. This award proves that through hard work, commitment and dedication, you really can achieve anything."
Make UK represents British manufacturers, and their annual awards are some of the most established and respected of their kind. The apprentice awards are given to those individuals who have done the most to seize the training and development opportunities presented to them throughout their apprenticeship programme, and can show demonstrable timely results.
These wins followed previous success for Leonardo apprentices at Make UK awards ceremonies, such as Devon Ward's 2021 Engineering Apprentice Rising Star Award, and Project Leader Ella Legg's 2020 Final Year Business Apprentice Award.
Kayley and Sophie join the growing list of award-winning women at Leonardo.
Adam Clarke, Managing Director of Leonardo Helicopters UK, congratulated the pair: "It's great to see the hard work of our apprentices being recognised at national award ceremonies such as Make UK. Both Sophie and Kayley are dedicated professionals that enrich our business and are inspiring the way for females in aerospace engineering."
Ben Lavery, Early Careers Training Manager at our Yeovil site, commented: "Well done to Kayley and Sophie. We're incredibly proud of the important work of our apprentices, all of whom make such a positive impact on our business. These awards are just small examples of how our Early Career schemes can help take trainees careers to the next level."
Interested in learning more about Leonardo apprenticeships? Discover our 2023 opportunities.