When did you start your apprenticeship?
I started my five-year Mechanical Degree Apprenticeship in Aerospace at Leonardo's Yeovil site in September 2017, aged 18.
What did you study at school?
At GCSE level, I studied Product Design, Art and Design, Business and IT as my options. Alongside these, I studied eight other subjects, including English, Maths and Science. I then moved to a local Sixth Form, where I completed A Levels in Maths, Chemistry, Art and Product Design, before applying for my Degree Apprenticeship with Leonardo.
What apprenticeship are you doing?
I am currently in the final year of the Mechanical Engineering Degree Apprenticeship (Apprenticeship Standard: Level 6), which is being completed through the University of Plymouth, where the degree's educational title is BEng (Hons) Mechanical Engineering with Aerospace.
Why did you think an apprenticeship was the right path for your career development?
During my final year at Sixth Form, there were several talks focused on applications to universities, but this was not of interest to me as I wasn't entirely sure what course I would want to complete and it was a lot of money to sign up for something I wasn't convinced by. I also found that the subjects I preferred were more practical, and I felt far more driven by the idea of getting on the employment ladder and starting a career; this led me to follow the apprenticeship route. After discussions with career advisers and my Product Design lecturer, I began to investigate which engineering apprenticeship options were open to me, as this career path seemed most suited to my qualifications.
Why did you join Leonardo?
Having been born and raised in Yeovil, and therefore very used to the sound and sight of helicopters flying overhead, Leonardo was a desirable and exciting company to me, and I looked into its apprenticeships. I have always had a desire to continue my education and advance my qualifications, so the Degree Apprenticeship scheme was the perfect choice, allowing me to do so while gaining the work experience and professional development I was eager for.
Tell us what you do in a typical week
I study my degree with the University of Plymouth part-time, and spend the rest of my week split between working at Leonardo's Yeovil site and remotely from home, during this period of COVID-19. In previous years, I have worked on site four days a week and attended the educational establishment in the remaining day per week (during the first 3 years of my scheme, this location was Yeovil College as they manage the HNC and HND parts of the apprenticeship).
I am in my seventh rotational placement; each of these would typically last from three to six months. However, to help with my studies and NVQ milestones during the last two years, some of these placements were extended in support. Some placements that I have completed include AW159 Structures, Structural Tests Laboratories, Project Engineering, Transmissions Repair, and Overhaul and Rotors Design.
What do enjoy most about your job, has anything surprised you?
I most enjoy the opportunities and activities that we are able to get involved with outside of our education and work commitments. I feel that these aspects really help to build relationships with other trainees, as well as aid our professional development and confidence.
I also enjoy the ability to move around placements regularly to improve my knowledge and understanding of the business, as well as helping shape the direction of my career.
I've been surprised at the range of departments and opportunities available for placements and potential final roles at the Yeovil site.
What have been your biggest achievements at Leonardo so far?
For the past two years, I was part of the student and apprentice association committee. During my time on the committee, we have supported the Yeovil District Hospital Charity with its Breast Cancer Unit Appeal. During my first year on the committee, I became Vice Chair, before becoming Chair in my second year. Until me, no one had been both Chair and Vice Chair in the 80 years of the association's existence!
Over the two-year period, Covid-19 made fundraising challenging, but through the committee's hard work and commitment, we raised over £50,000 for the charity and I delivered a speech to over 200 trainees and managers across the site at our Annual Awards Dinner to announce this achievement. The work completed as part of this association is my proudest achievement to date and I am looking forward to seeing the fundraising my successors achieve over the years to come.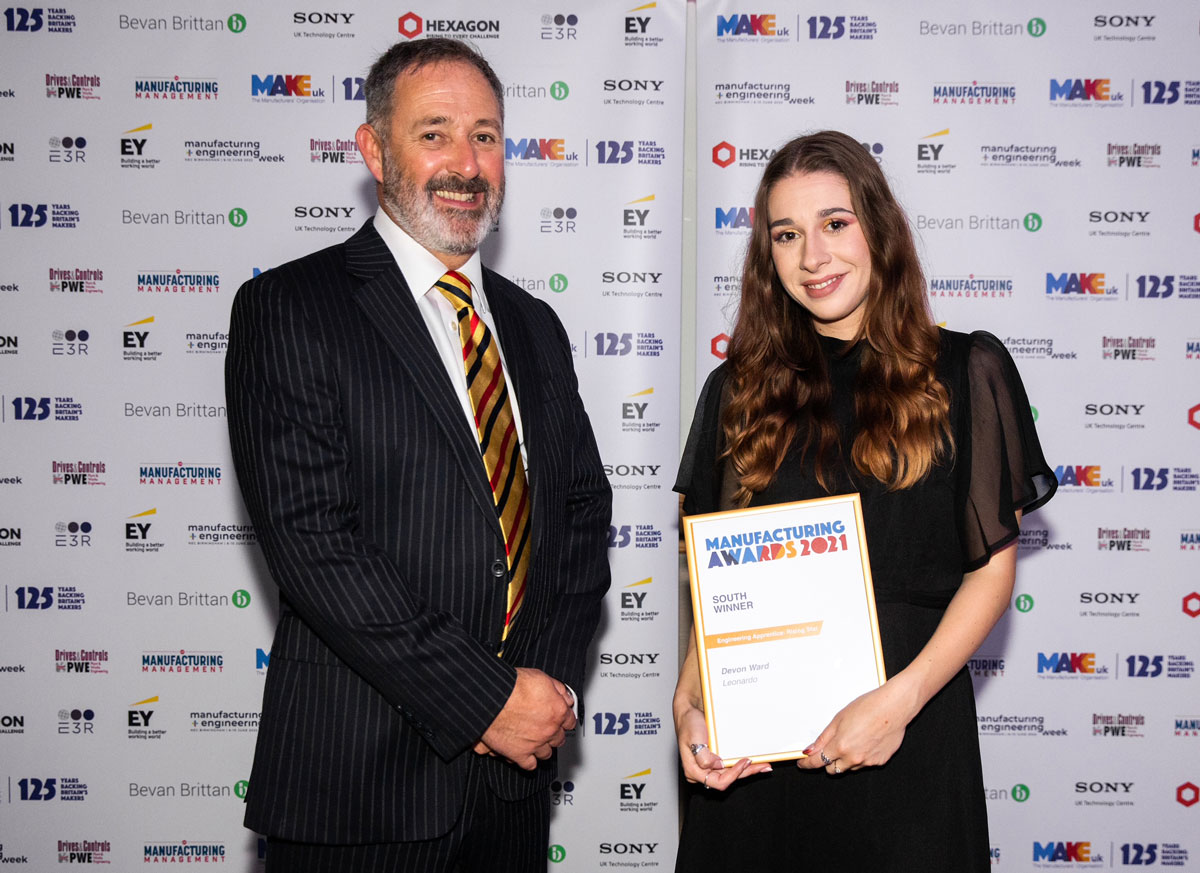 In January 2022, I was also proud to win the 2021 Engineering Apprentice Rising Star Award at the Make UK Awards national final. This was after winning the competition's South Region Awards in October 2021.
What related activities are you involved with outside your specific job role?
As previously mentioned, I chaired the student and apprentice association committee that worked to create social opportunities for the trainee population, as well as raise money for a cause in our local community.
As the only female in my degree year, I felt it was important to get involved in STEM events at local schools and I returned to my former Sixth Form twice to present on the company and its apprenticeship opportunities. Another STEM activity I took part in was staffing a stand onboard the aircraft carrier HMS Prince of Wales when it was docked in Liverpool. I was also selected to speak to the Minister for Defence Procurement (2019) about opportunities available at the Yeovil site when he came for a factory tour.
What are your career aspirations?
In the long-term, my ambition is to gain the comprehensive knowledge and understanding of the department in which I will work at Leonardo, to further develop my competency and experience in aerospace engineering. I would like to use this growth to gain Chartership and potentially further my education by completing a master's degree.
I hope to take the opportunity to work on many exciting projects within my permanent department after completing my apprenticeship, allowing me to excel within my job role, as well as seeing my work making a positive impact on the final products that we develop and produce. In the future, I would like to move into middle management and eventually into senior management positions with the aim of helping the company continue developing and growing. In particular, I would like to promote and encourage more women to pursue an engineering career and embark upon Leonardo's apprenticeship schemes.
Is there anyone that you would like to thank or that you'd say has been the biggest influence on your success?
I'd like to thank my fellow trainee friends for making the apprenticeship experience so enjoyable. They've helped me build a close set of long-term friendships that has allowed me to push myself and take on new challenges that I wouldn't have dreamt of before.
I'd also like to thank my training team, and the team I worked alongside with as part of the Apprentice Committee to fundraise for the local community and develop my personal and professional skills, which I'd now value as the biggest influence on my success.
Why should someone consider an apprenticeship at Leonardo?
I think it is important to gather as much work experience as possible at a young age to help shape your career and open as many opportunities as you can to develop and achieve your aspirations. By completing an apprenticeship, I feel that this is the best of all worlds – your qualifications (in my case, HNC, HND, BEng and NVQ) are sponsored, so there is no debt, and you also are able to develop relationships and soft skills that will make you stand out down the line.