Search and rescue (SAR) is one of the most demanding tasks a helicopter and its crew can perform, and it is typically reserved for only the most skilled aviators and the highest capability helicopter platforms. Norway has a long history in aviation and certainly has many skilled aviators, and now with the introduction of the latest generation AW101 'SAR Queen', it has the most advanced SAR helicopter fleet in the world today.
In 2020, the first six SAR Queen helicopters became operational in Norway, and the fifteenth aircraft of sixteen ordered was delivered earlier this year to complete a significant milestone in this successful programme. With the final aircraft due for delivery in 2024 and two bases remaining to commence SAR operations using the AW101, next year will see the deliveries complete and Leonardo's 15-year support service become fully operational.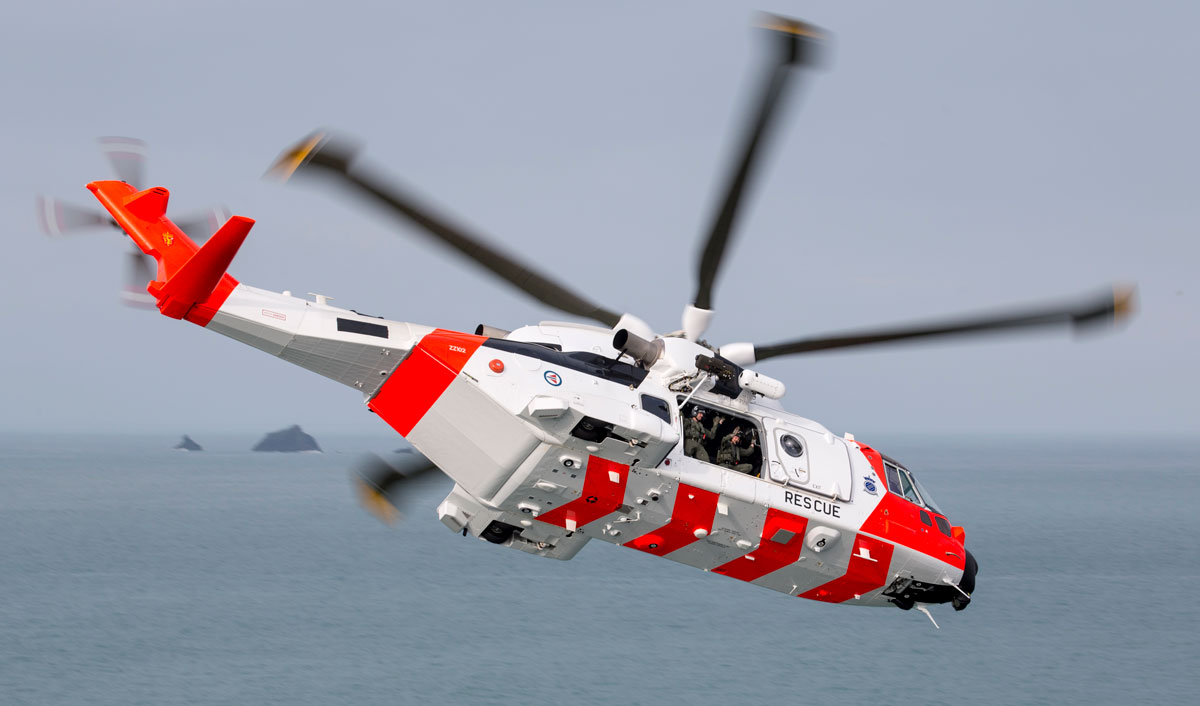 Norway and Leonardo – a long-standing relationship
Leonardo's relationship with the Royal Norwegian Air Force (RNoAF) dates back 50 years, with a key focus on helicopter-based SAR operations. This relationship began with the introduction of the legendary Sea King in the 1970s, manufactured by Leonardo Helicopters (formerly Westland) in Yeovil and possibly one of the best-known SAR helicopters ever built. This aircraft has been operated by the RNoAF's 330 Squadron for five decades and will finally retire at the end of 2023.
"330 Squadron has only ever known Leonardo's helicopters and operated those for search and rescue…so it's a very strong relationship that has grown over several decades and it means we understand how they operate and understand what's important to them," said Mark Goddard, Senior Customer Support Manager for Norway's NAWSARH & Polish programmes at Leonardo Helicopters UK.
To be able to propose a solution for a customer, it is important to understand their operational challenges. For Norway's All-Weather Search and Rescue mission, many of those challenges come from the unique geographic and environmental conditions that are faced all year round in the country.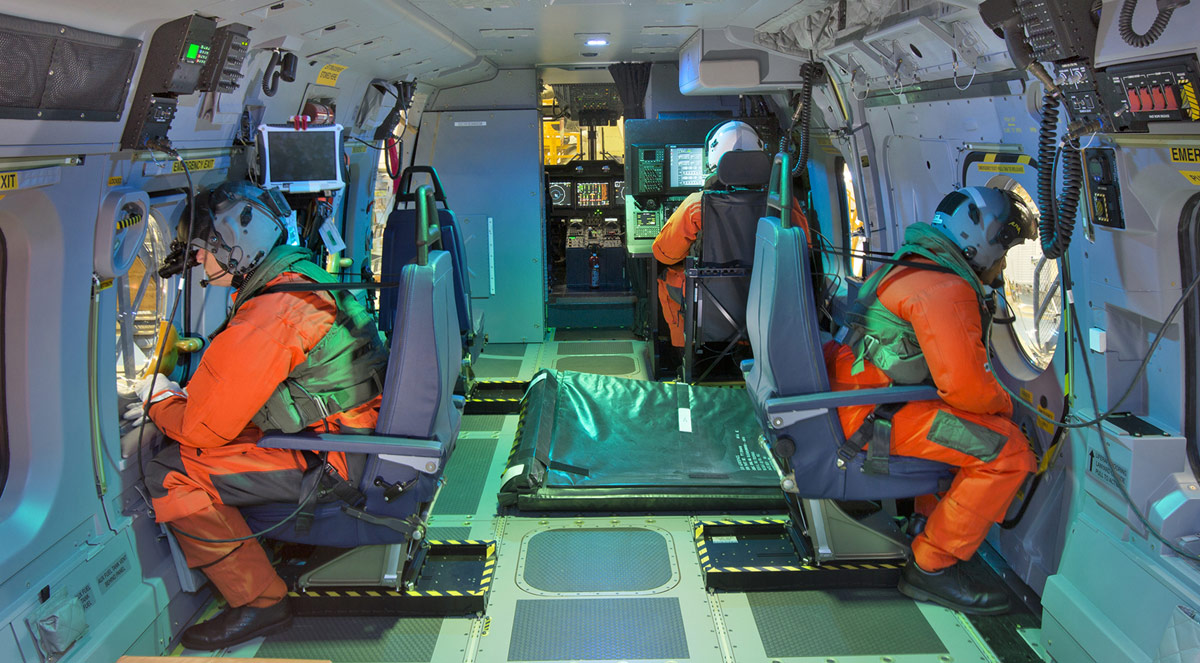 Norway is one of the largest countries in Europe and has a coastline of over 15,000 miles, with much of it reaching into the Arctic Circle and SAR responsibility for a huge expanse of water all the way to the North Pole, while at the same time it is highly mountainous and home to some of the highest peaks in Northern Europe.
That presents significant challenges for aviators, from navigating dangerous terrain, to dealing with all-year-round icing conditions and flying in adverse weather – both at sea and over land. With Leonardo's long-standing relationship with the RNoAF, many of these challenges were known and as a result, Leonardo could begin to develop a helicopter SAR solution that would operate beyond the capabilities of the legacy Sea King.
Leonardo's new AW101 SAR variant
The result was a brand-new variant of the AW101, Leonardo's highly versatile helicopter that has operated in some of the most extreme environments in the world – in both military and civilian roles – and has seen significant success, especially in SAR roles. With three of the arctic council members choosing the AW101 as the vehicle to discharge their responsibilities in this most northern and hostile environment.
"The capability that is on the Norway AW101 is world-leading," said Simon Tutcher, Head of Engineering for the AW101/EH101 programmes, at Leonardo Helicopters UK. "The AW101 can go and do the mission when others can't."
What sets the Norwegian variant apart from other SAR helicopters is not only the AW101's outstanding performance, but a number of state-of-the-art systems installed on the platform, which have already directly contributed to saving lives and removing personnel from harm's way.
This includes a game-changing mobile phone locator system that can pinpoint a missing person from just their phone's signal. This allows crews to fly above adverse weather – rather than conduct search patterns close to the ground – with the locator system on, quickly locate a person and send them a text message that they are on their way. What used to take several hours can now take a fraction of that time, increasing the chances of survival for the missing person and freeing up the crew and helicopter for additional missions.
This is also combined with the next-generation Osprey 30 active electronically scanned array (AESA) radar – also from Leonardo – that gives crews an exceptional all-weather detection capability over both land and sea.
"The air force is able to push the boundaries of its operational norms by exploiting the capabilities and functionality available to it," noted Tutcher.
World-class range and performance for SAR
The AW101 has an impressive range and performance envelope, allowing crews to go much farther and higher than was previously possible with helicopters such as the Sea King.
Crews are now able to fly over mountainous terrain rather than circumnavigate them via coastal navigation, which means significantly improved response times.
As described above, this performance also allows the helicopter to fly above adverse weather conditions, which improves crew and passenger comfort and provides a more stable environment for missions.
An Active Vibration Attenuation System also reduces crew fatigue when flying over longer distances and eases the transport and transfer of vulnerable and very ill patients – including heart attack patients and incubated newborn babies – that would not be possible using a ground-based ambulance or smaller HEMS aircraft.
Norway's fleet also has an icing protection capability that means it can deploy and fly even when conditions would ground other aircraft – and in Norway this can be all year round! This is critical for SAR as many rescue missions occur when people have become injured or stranded because of poor weather conditions in remote locations.
Ongoing developments for even greater performance
Norway's AW101 platform is already meeting (and often exceeding) its requirements and excelling at its role, but Leonardo and the RNoAF are not finished with the platform just yet. Working closely with the RNoAF and end-users, there is ongoing engineering work that will optimise the AW101 further, not only benefiting Norway but also existing and future AW101 customers.
"Traditionally, the level of engagement that companies would have with the customer [once the aircraft is delivered] from an engineering point of view would be significantly reduced, but Leonardo still maintains a relationship with the customer and we see the Royal Norwegian Air Force multiple times a month from a technical point of view, including visiting the bases," said Tutcher.
One example of this relationship is ongoing development updates to the Automatic Flight Control System (AFCS), which is new for the Norwegian AW101 and has been developed in-house by Leonardo, sharing commonality with other Leonardo helicopters including the AW139, AW169 and AW189. The AFCS ultimately reduces crew workload and ensures that they can concentrate on the mission at hand.
By closely working with users, Leonardo has carried out iterative improvements to the human-machine interface as crews develop their experience with the platform and how they operate it.
Improving engine performance
Another key area is the Performance Improvement Programme (PIP), which will see an increase in power for the main gearbox and General Electric (GE) CT7 engines.
"This is the biggest enhancement we've made to the AW101 aircraft since we put the GE engines on it," said Tutcher.
The PIP requires no physical change to the engine itself, rather the computer that controls the engine is being upgraded to allow more main gearbox torque and engine power, particularly for take-off. Last year, a Norwegian AW101 completed high-altitude trials in the US with the upgrade, including safe landing and recovery techniques in the event of an engine failure, and trials have continued in Europe.
Once certified and rolled out, the PIP will give Norway additional capabilities for its SAR missions, particularly those that are carried out at high altitudes. Other AW101 customers with GE engines could also benefit from this upgrade programme and will be available for mid-life upgrades.
Conclusion
Leonardo's relationship with Norway dates back half a century, and with the successful delivery of the AW101 SAR Queen, will last many more decades to come. Leonardo is not only committed to delivering a world-class SAR solution for the RNoAF, but also maintaining a close working partnership that will ensure Norway and its brave aircrews have a leading capability into the future.
In our next article, we will explore how Leonardo is working closely with Norway to train crews and support the helicopters that are now in service.
---