22 October 2020
An apprenticeship completion certificate dating back to 1916 has been found by Leonardo, casting light on the heritage of the company's apprenticeship programme, which has employed generations of apprentices in the Yeovil area.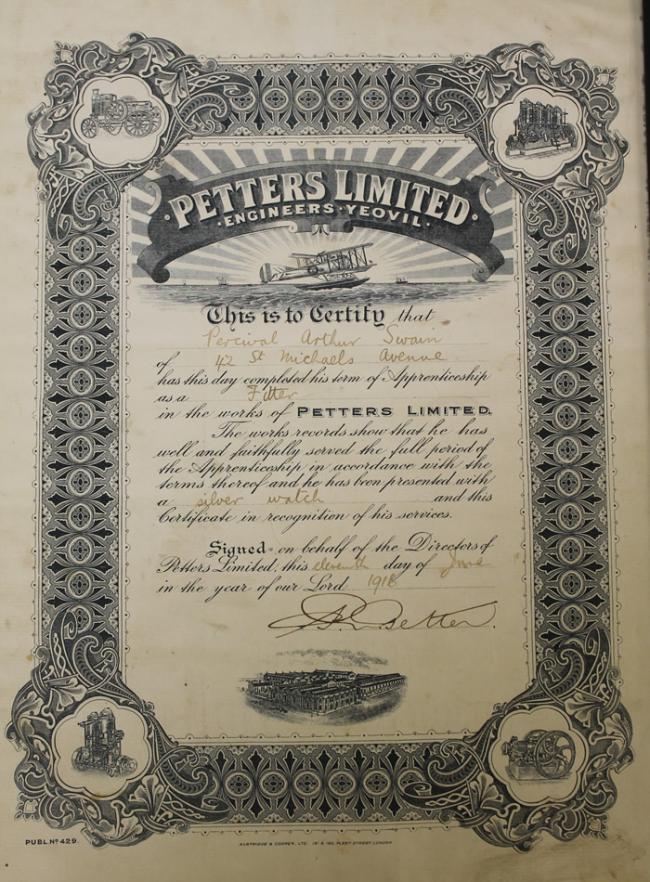 While searching through Somerset Council's heritage archives, Leonardo's Early Careers Manager in Yeovil, Ben Lavery, found the image of the 104-year-old certificate, stating that Percival Arthur Swain had completed his apprenticeship as a Fitter.
Leonardo's century old commitment to developing its emerging talent is evident in the certificate, which reads: 'The works records show that he has well and faithfully served the full period of the Apprenticeship in accordance with the forms thereof and he has been presented with a silver watch and this Certificate in recognition of his service.'
The certificate is signed on behalf of the Directors of Petters Ltd, which went on to become part of Westland Aircraft Works, established over 100 years ago to build aircraft to support the First World War effort.
Today, Leonardo employs approximately 3,000 employees at its Yeovil site, producing helicopters such as the AW159 and AW101 helicopters, with over 130 Yeovil-based apprentices forming part of the aerospace engineering company's wider population of 300 apprentices across the UK.
Outside of their day-to-day studying and working, today's trainees continuously demonstrate a concern for the wider community that equals their commitment to their roles. Recent projects have included volunteer work to create a new Sensory Garden for Yeovil Opportunity Group, supporting the 'School in a Bag' programme which gives vital educational materials to children living in Africa, and raising more than £20,000 for Yeovil Hospital Charity's Breast Cancer Unit Appeal.
Ben Lavery said: "To raise over £20,000 for such a worthy charity amidst such challenging conditions really reflects the attitude our trainees bring to our Trainee Charitable & Social Association activities. This century old certificate is a timely reminder that technology can change, working environments can transform to move with the times, but a good work ethic and a positive attitude are timeless attributes which will always lead you to excel in apprenticeships."