Award-winning Students
Leonardo's Year in Industry Students have been recognised by the Engineering Development Trust (EDT) and Institution of Engineering and Technology (IET) in recent years.
Henry Labrow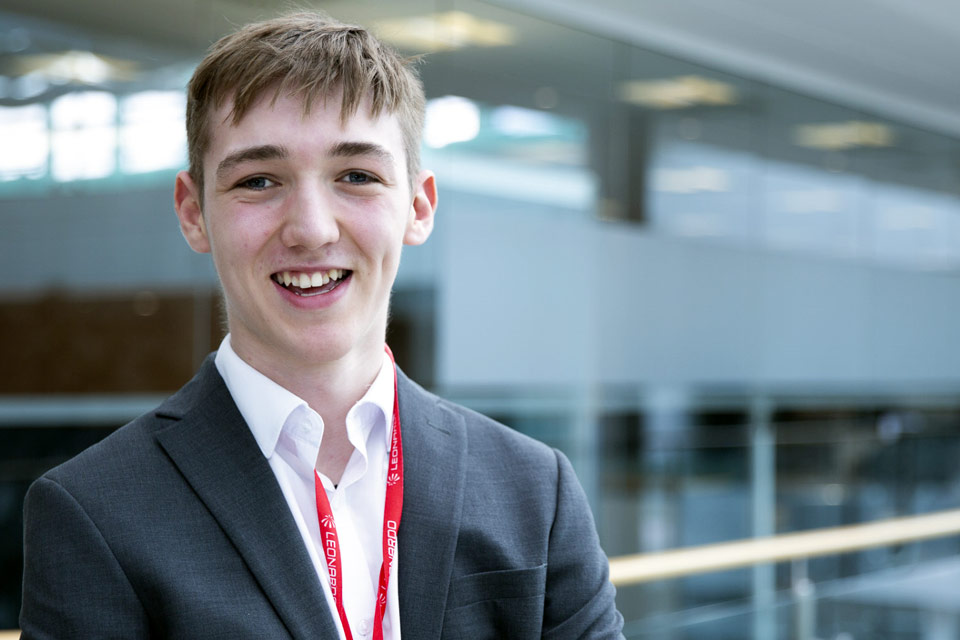 Henry Labrow won the EDT's 'Contribution to the Business Award 2023' following his Year in Industry at Leonardo's Edinburgh site.
During his time at Leonardo, Henry worked on improving the 3D graphics rendering, which contributed to multiple important projects. The render time for large models was reduced by 90 times and the quality of the graphics substantially improved. This made diagnostics of 3D results much easier and gave way to new tools; for example, an existing route-planning tool was updated with significantly enhanced 3D graphics. This allowed for rendering of complex terrain in a 3D environment, as well as animation of vehicle routes.
Following his Year in Industry, Harry is studying physics at the University of Manchester.
Katie Walker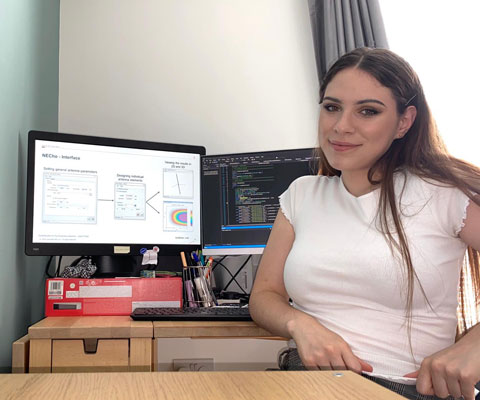 Katie Walker enjoyed a highly productive year in industry with Leonardo in Edinburgh, during which she won the Innovation Prize at the 2020 Engineering Development Trust (EDT)'s Year in Industry 'Contribution to the Business' (CTTB) Awards, and secured a place to study physics at Oxford University.
In August 2019, Katie moved from Maidenhead to Edinburgh for her placement programme, having found details of it on the EDT website while researching opportunities to get industrial experience during her gap year.
"Moving to a city hundreds of miles away from home, where I didn't have any friends, was fairly difficult," recalled Katie, "but luckily my sister lives not too far from Edinburgh which helped me adjust! Edinburgh is a beautiful city with lots of culture and I've really enjoyed living here. I'm never bored on the weekends as there is always something to do…at least before COVID-19, anyway!"
As a result of her work in Edinburgh, Katie was nominated for the CTTB Awards, which recognise the achievements by students during their year in industry and how they have positively impacted the business they've been working in. Due to COVID-19 pandemic, the awards semi-finals and final were held virtually for the first time.
"A highlight of my placement was definitely the moment I realised that I could actually code in C# and that my software tool was working! I had struggled a lot with learning how to code and I just didn't understand how C# worked. But once I realised that I was picking up the skills, it gave me more confidence," said Katie.
"I won my innovation award for creating the tool that will be used to model different sorts of wire antenna at Leonardo. The judges were impressed by the steep learning curve that I undertook, along with my ingenuity and how innovative and useful my tool was. I was so grateful to win a prize; I really felt recognised for all the hard work I've put in over the last year."
Katie acknowledged the "immense support" provided to her by colleagues and mentors throughout her placement – both when she was on-site at Leonardo and when she was working from home following the COVID-19 outbreak.
"When I had a question, there was always someone to offer support. My mentors were particularly helpful during the run up to the CTTB Awards supporting me in drafting my initial submission and helping me practise the presentations for the semi-final and the final. I'm really grateful for all the support I received during my placement as it helped me develop and gain specific skills that will be so useful for my future.
Looking ahead to starting her physics degree at Oxford University this autumn, Katie said: "My placement has given me independent working skills and confidence that will be really useful for when I start at Oxford. I'll also use some of the technical skills I have learnt, like coding, and my placement has allowed me to maintain my level of mathematical knowledge."
She also believes spending a year in industry is an opportunity more students should pursue. "An industrial placement has been valuable to me as I got high quality work experience, which I had never really had before. This meant that I could experience what engineering was like from the inside to see if it would be a potential future for me. And together with the skills I learnt, I think these were contributing factors towards my successful application to Oxford University this year!"
Katie Archibald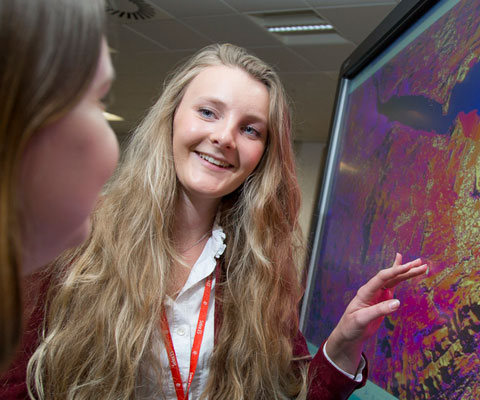 Placement student, Katie Archibald, won the top award at the 2015 'Future Industry Leader Awards', in recognition of her highly innovative work during her year at the company's Edinburgh site. The awards are run by the Engineering Development Trust (EDT).
This award was further recognition of the 19-year-old's outstanding contribution, after she swept the board at the regional EDT Scotland Year in Industry Contribution to the Business Awards in July 2015, when she won four awards – Perth College/CMI YINI Student of the Year; Business Improvement Award; Best IT Project Implementation; and overall winner.
During her 'Year in Industry' programme placement, Katie, who is about to start her degree in General Engineering at the University of Cambridge, significantly enhanced the accuracy of predictions of modern radar modes, by developing an advanced clutter model which simulates expected clutter (radar reflections from the ground) using free Ordnance Survey map data. To develop the clutter model, Katie taught herself programming and designed her own software to draw 3D objects.
As a result of Katie's outstanding work, Leonardo has been able to reduce the number of flight trials required in testing and development. The company anticipates that this will result in significant savings each year, as well as being more environmentally friendly.
Lead Radar Systems Engineer, Paul Rose said: "Katie was a stand-out candidate from the moment we interviewed her; brimming with enthusiasm and confidence. Her work on the advanced clutter model is world class and is worthy of someone with much more experience. Her success is a result of her tireless endeavour and brilliant intellect. We are honoured and privileged to have worked with such a talented youngster."
Katie, who collected her prize at the awards ceremony at the Royal Academy of Engineering, explained: "Having the opportunity this year to apply my own knowledge and skills to a real engineering project has been invaluable. It is an amazing feeling to see the positive impact that my own work has had on the company.
"Working at the company has shown me that far more than technical knowledge is needed to be a successful engineer. I have discovered the importance of perseverance and problem solving within the job, as well as the need for team work and good communication; and the placement has given me the opportunity to develop all of these skills," she added.
Ross Gardiner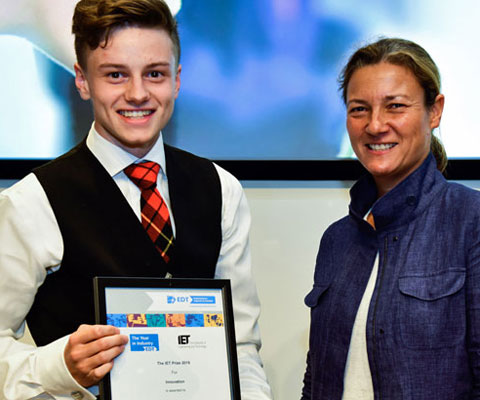 At the 2016 Scottish Engineering Development Trust (EDT) Awards, Year in Industry student Ross Gardiner was the overall winner of the 'Contribution to the Business' award. He also won the 'Best Business Improvement' prize and was runner-up in the 'Best IT Award'. As a result of his success in the Scottish awards, Ross went on to compete in the UK final on 7 September, where he won the Innovation Award, shortly before starting at Glasgow University.
Reflecting on his year's industrial placement at Leonardo, Ross said: "Engineering requires tenacity, but I think that's what makes it so rewarding. My project has given me valuable insight into how I can apply my own skills to a real, challenging problem. I was exposed to countless industry experts and found that experienced colleagues are a priceless learning resource. It's something I will miss dearly having completed my placement.
"I'm grateful for all the opportunities I've been given and the mentoring I've received. Working at Leonardo this year has shown me that the best engineers have a blend of both technical ability and interpersonal skills. Being placed in the working world is a fantastic environment to develop my own working relationships and professional conduct; these are vital attributes which I don't believe are teachable in a classroom. Subsequent to this, I feel far more prepared for the challenges that lie ahead in university and beyond."
Ross's mentor, Paul Rose, Lead Radar Systems Engineer, said: "Ross has been a fantastic student, showing a real determination to solve a problem that many thought couldn't be done. He actually applied for a Year in Industry placement with us the previous year, having just completed his fifth year at Peebles High School, but we encouraged him to go back for sixth year studies with the promise that we would keep a place for him this year. I'm so pleased that he took our advice and that he came back to us for this academic year – he's done a remarkable job for us and his work is now being taken forward by another student who started in August 2016. It is a real example of how anyone with the right attitude can succeed, if they are placed in the right environment."
Speaking about Ross's UK award win, Paul said: "This success was a combination of Ross's hard work and tenacity, and his ability to find people within the Radar Systems group who could help him to solve complex radar-related problems. This prestigious award recognises the uniqueness, magnitude and significance of Ross's work and is very well deserved. Having started his undergraduate degree in Electronic and Software Engineering at the University of Glasgow, I'm sure this award will spur him on to even greater innovation in the future."
Tomas Yates
Tomas won a 'Highly Commended' prize in the 'Student of the Year' category at the 2016 Engineering Development Trust (EDT)'s South East Regional awards.
Tomas spent a year in the mechanical engineering team at Leonardo's Luton site, and was shortlisted as a finalist in five categories for the EDT's 'Contribution to the Business Awards', which offer a great opportunity for Year in Industry students to showcase their placement projects.
At the awards, Tomas presented to a panel of expert judges and wider audience drawn from across the engineering industry, demonstrating the lessons learned during his placement and the way in which his work on the new Britecloud 218 design has helped to reduce its complexity and overall unit production cost.
Kris Harrison, Head of Lean Engineering and Design for Excellence at Leonardo, who attended the awards, said: "There were some really amazing students amongst the finalists so Tomas did really well. I hope this will inspire him to pursue a career in engineering in the future."
Alexander MacLaren
Year in Industry student, Alexander MacLaren, won the 'Best IT Award' at the 2016 Scottish EDT awards.
Alexander believes his placement has given him a valuable introduction to professional life which will provide him with a good knowledge foundation for his forthcoming degree at Imperial College London in the autumn.
"The diverse range of challenges I have encountered this year, spanning several engineering disciplines, made me rethink the way I learn and solve problems," said Alexander. I feel I have become a more confident and efficient engineer as a consequence. Mechanical engineering is at the core of all Leonardo products and as such, requires a diverse and multifaceted skill set. During my placement I have acquired many of these skills, which will help me collaborate with other disciplines throughout my career.
"It's been a privilege to learn from and work with a dynamic team of engineers amongst state-of-the-art technology. It is the people at Leonardo which make it a fantastic place to work, and I am truly grateful for the guidance I have received and the kindness I have been shown this year. My data logging device has already been used in ground trials and I hope it will be of use to Leonardo in the future."
Alexander's mentor, John Abbie, Chief Mechanical Engineer (Radar), said: "Alexander is an enthusiastic and energetic young engineer with an intellect to match. Coming from St Mary's Music School in Edinburgh, Alexander already possessed a high competency in many musical instruments. He has applied his creative and academic skillset to a variety of engineering disciplines, culminating in the development of a data logger device. I congratulate him on his outstanding Leonardo-Finmeccanica project performance this year.
"Data logging using sensor devices was always going to be a big ask for Alexander, but he rose to the challenge and surpassed all our expectations on so many fronts. It has been a pleasure to mentor Alexander this year and I wish him well throughout his university education at Imperial College London and his future career."
David Cormack
David Cormack, an engineering student Summer Placement at Leonardo's site in Edinburgh, won the 2016 IET prize for outstanding achievement and distinction. He completed several student placements in the company's Systems Engineering department, overseen by Lead Systems Engineer, David Greig.
The IET told David that his dissertation, which he completed at Leonardo, was a major contributing factor to the IET award.
Further to his IET success, David graduated from Heriot-Watt University with an MEng with Distinction (1st) and was awarded the university's Watt Club Medal for achieving the greatest distinction in his undergraduate degree course.
Jack Maxwell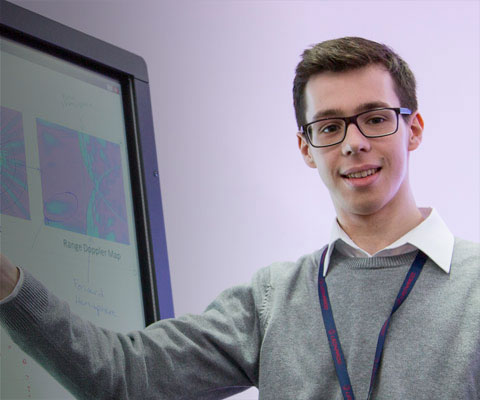 Year in Industry student, Jack Maxwell, won the 'Innovation' and 'Best IT Award' at the 2017 Scottish EDT awards.
Working in Leonardo's Systems Engineering function in Edinburgh, Jack spent his year developing a new clutter model for a radar modelling toolset. A clutter model simulates the radar energy reflected from the ground. The intention of the project was to develop a new clutter model which was more efficient than its predecessor, making use of parallel processing, thus reducing simulation run-time.
Jack explains: "The new clutter model I developed is more accurate, efficient and three times faster than its predecessor. The reduction in simulation run time results in increased efficiency for both Leonardo and its customers, allowing for more design iterations to be developed in a given time. I also created a tool supporting my model which, through visual representation, shows the main stages required to simulate clutter energy for a point on the ground.
"The analysis tool has been viewed by my mentors as useful to train graduates and Leonardo employees in better understanding the concept of clutter modelling. This tool will be included alongside my clutter model in a future update of the modelling toolset."
Looking back on his placement year, Jack added: "I have really enjoyed my time at for Leonardo. Throughout the year, I gained greater understanding of radar, previously knowing very little of the subject. I learned to code in the programming language C# from scratch, developing my general programming practices to Leonardo's high standards. Finally, I was able to challenge my problem-solving skills, pushing me to think outside the box for solutions to problems faced throughout the year. The skills I have learned will be extremely useful to me in my further studies at university."
Systems Engineer and Jack's line manager, Ben Wilcox, said: "Jack has been a superb student, hardworking, enthusiastic and eager to learn. During Jack's time within the Systems Engineering function at Leonardo he has developed a new and innovative way of modelling clutter which is essential for understanding how a radar system processes energy from the ground. Jack also spent time researching how we can speed up our models using hardware and software acceleration and as a result his new model also exploits computer parallel processing. This means that his work will result in the speed up of simulations carried out by our engineers and customers all over the world.
"The awards Jack has won for Innovation and Best Use of IT reflect the work he has put into his placement, having to think outside the box to solve complex problems and how to implement the solutions in an efficient way. The awards are very well deserved and I wish Jack the very best for the future."