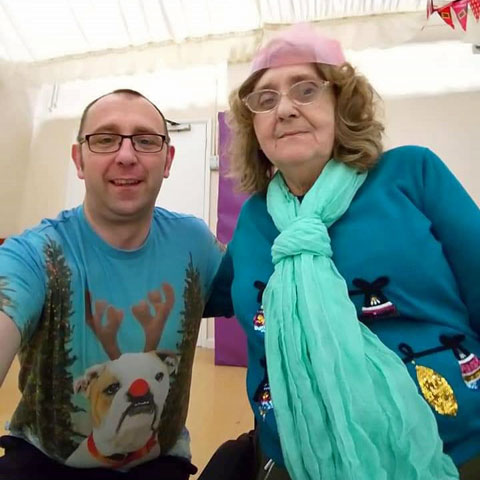 When anybody hears the word 'carer', they may think of a person who does not work and is solely devoted to caring. However, in the UK, it is estimated that five million people* (1 in 7 in every workplace) juggle work and care in the UK, with this figure set to increase. Every one of us is potentially a carer. (*figures from carersuk.org)
My 14-year role as a working carer (also called unpaid carer) started in 2007 when my mum had a major stroke in her early 50s and was unable to take care of herself. My nan, who was living with my mum at the time, was in her mid-70s and also required a degree of support. I was working 90 miles away and had to make a difficult decision to move to her town, find a job and look after her.
Working full-time meant that finding help was difficult, since most places that offered advice tended to operate during office hours. The only available care at the time was either in care homes or care visits to my nan's home, which cost more money than was available. As a result, my mum and nan were at risk of slipping through the cracks in the healthcare system. This in turn came at a personal cost – impacting my mental health, with the stress on me to provide more support, whilst holding down a job, a house and a family.
Eventually I was lucky to find Glamis Hall for All – a day care centre offering a core service that would feed and entertain mum and nan. In addition to this, podiatrists, hairdressers and disabled bathing facilities were also available. The day care centre would also escalate any issues they noted, either with the wellbeing of the clients (they were the first to notice that there was a restriction of blood supply to one of mum's legs) or in the client's home when they collected them.
I joined Leonardo in January 2020, and within three months of me starting, mum had been diagnosed with lung cancer. Due to her physical and mental state, treatment of the illness was not an option. Leonardo's flexibility allowed me to offer support to mum throughout the day when needed, whilst still working full time.
During the last few days on mum's life, my work colleagues and manager were my support network, allowing me to arrange end of life care and deal with mum's death itself. All this took place during the start of Covid, and even though Leonardo and my colleagues had to tackle with the hardships raised from this unknown situation, they were still able to offer a helping hand. For this, I am forever grateful.
My role as a carer ended last year, when my mum passed away, but I am still incredibly grateful for the support my local day care centre was able to offer, which allowed me to continue working. In appreciation of the support provided by Glamis Hall for All, I ran the London Marathon in October 2022, raising nearly £1,400.