Fiona Clark, who is based at Leonardo's Luton site, has teamed up with other residents in her road to establish an "NHS sewing group". Using pillow cases, sheets and quilt covers donated by local people, the group has been making up scrubs for health workers at hospitals and care homes in Hertfordshire.
"So far, we've made seven sets of scrubs, 85 scrub hats and 40 drawstring bags for NHS workers to safely transport uniform and scrubs home after their shifts," explains Fiona. "Old linens make perfect material for these hard-working garments as they can be washed at hot temperatures to destroy the virus. While there are differing levels of skills within our group, everyone is energised and enjoying doing something positive that is making a definite difference."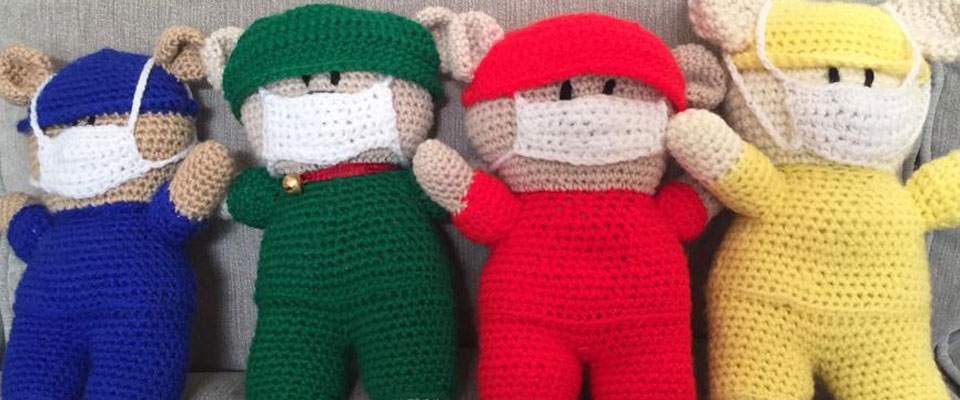 The team is also knitting and crocheting 'frontline hero bears' for children of key workers when their parents go into the wards, or even isolate themselves from their families. "The objective of the bears is to give the children a special soft toy to remind them of the amazing work their parents are doing for us all," adds Fiona.
Elsewhere, Luton-based Jo Peverill has been making face masks for her family, neighbours and a dementia care home in Suffolk where her grandmother was until she passed away at the start of this year. "I wanted the masks to go somewhere and to people who I had a connection with," says Jo. "We've also managed to raise over £250 for the James Paget Hospital in Norfolk, thanks to my mum displaying the masks on a table in her driveway, and people making donations in return."
In addition to the Personal Protective Equipment being produced and co-ordinated by the Leonardo business across the UK, Richard Collings, a Principal Mechanical Design Engineer based in Leonardo's Bristol office, has been using his own 3D printer at home to create protective visors for NHS staff. So far, he and his wife have produced around 150 visors, supplying them to various front line workers including Sunderland General radiology department, St. Peters Hospice, local teams of community nurses and midwives, and local doctors' surgeries.
"The visors are made from strong A4 acetate sheets, which was like gold dust to find! Luckily, our neighbours responded positively to my WhatsApp request for acetate, with two packs left on my doorstep within half an hour! This was fantastic and allowed me to immediately start working on completing the first 30 visors," says Richard.
"It feels really good to be contributing and it's been a family effort outside of our working hours, with my wife cutting the visors and packing, while I've been preparing the 3D prints. A lot of my family works or has worked in the NHS. The key influence in me wanting to help is my sister being a radiographer at Sunderland General in the North East. She's personally making huge sacrifices, not being able to see her daughters as she's scanning Covid-19 patients and therefore isolating when she's at home."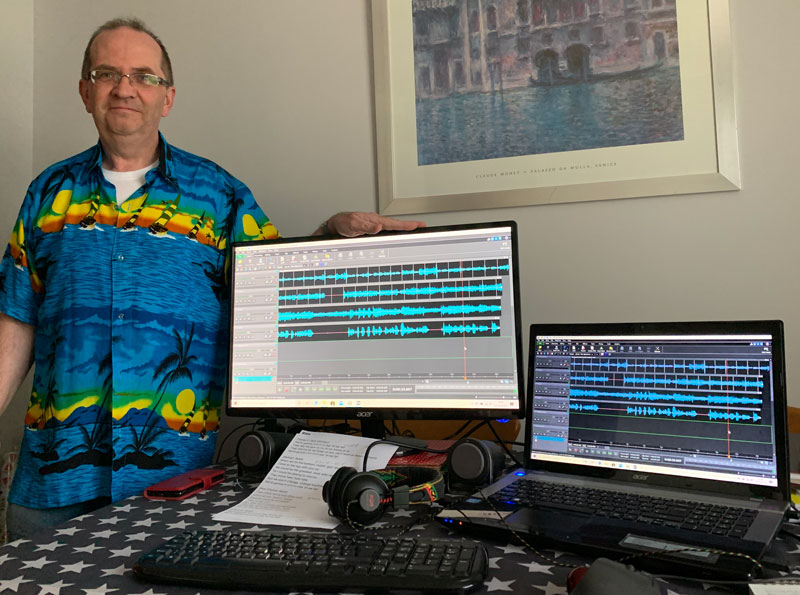 In Somerset, Simon Stacey, who is part of Leonardo's Research & Innovation team in Yeovil, is using his spare time to help his local primary school in East Coker. Since the Covid-19 lockdown has meant that the school had to cancel their much anticipated spring concert, Simon has volunteered his time to work with the music lead and pull together an entire choir virtually. Pupils are sending in individual videos of them performing to a backing track, with Simon putting together the audio and visual to produce a single video with all the students performing collectively.
"It is a challenge and takes a lot of time, but it seems to be working and the more I improve on the software, the better the choir's performance sounds," says Simon. "Fingers crossed that with all 16 performers' submissions received, I can piece it together as a single show."