When did you join Leonardo?
During my Arkwright Engineering Scholarship* – which is awarded to high-calibre 16 year old students and supports them through two years of A levels, Scottish Advanced Highers or equivalent qualifications – I was lucky enough to sit in the cockpit of a Typhoon fighter jet. That really fired my enthusiasm to work with defence aircraft. Also, my family works with mountain rescue, which means I know how important Search and Rescue (SAR) helicopters are to bringing people home safely. Since Leonardo manufactures SAR helicopters such as the AW101 and the AW189, as well as many of the radars used for such missions, applying for a graduate apprenticeship here in Edinburgh was a natural choice. My graduate apprenticeship provides practical hands-on experience while studying for a degree. It's giving me the best of both worlds and I'm really enjoying my first year.
Tell us about your typical day
As a graduate apprentice, I work in placement three days a week and study for my degree two days a week. For my first two years in the business I was on rotational placements, meaning that I moved all over the business working on various projects. For instance, one day I could be developing software that handles data produced by our surveillance radars, and on another day I could be designing and developing new test equipment to assist in the production of our advanced targeting devices for fighter jets and attack helicopters. Once a month, I attend The University of Strathclyde in Glasgow as part of my Graduate Apprenticeship, where I complete exams and assessments. I have now settled into the Mechanical Engineering function, which is where I hope to continue on within after my apprenticeship.
Why was an apprenticeship the right path for you?
While I appreciate that I'm still young, I've known for a while I wanted a career in engineering. The graduate apprenticeship mixes practical, real life experience with the theory and knowledge taught through distance learning at university. Obviously, it's also a real bonus that the company is paying for my degree and I am being paid while learning how to do a job I love!
What do you do outside of your apprenticeship?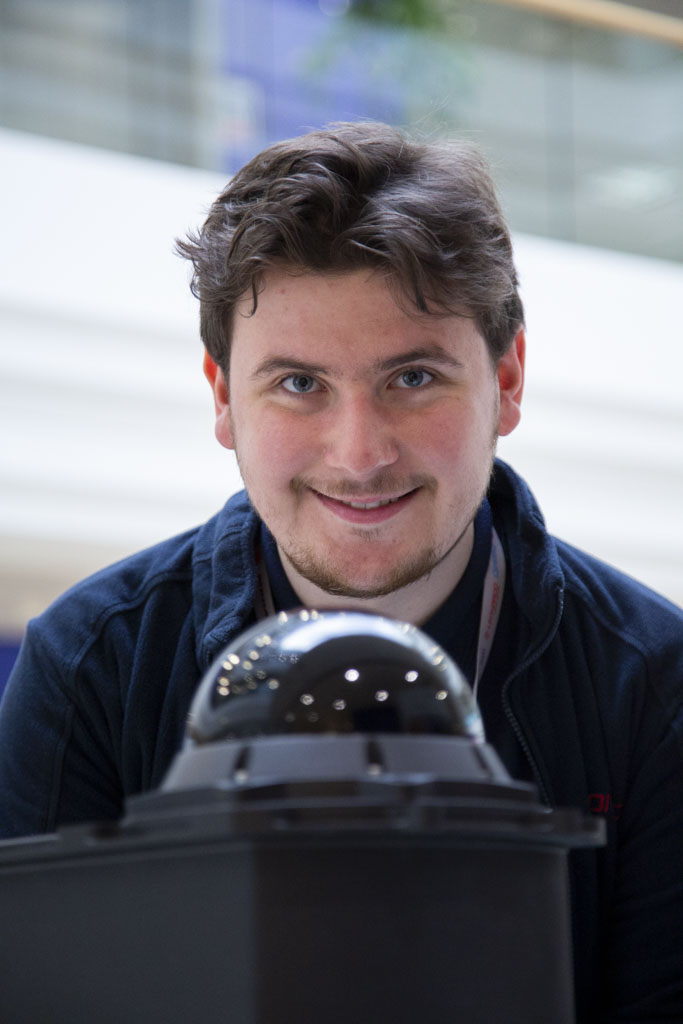 Within work, I'm a STEM Ambassador, supporting a range of STEM outreach projects with schools and through events. I have also contributed to Leonardo's STEM@Home campaign, providing instructions about making your own paper boat.
Outside work, I spend some of my free time volunteering at Search & Rescue Dog Association (SARDA) Southern Scotland, acting as a 'missing person' to help train Search and Rescue dogs. I also enjoy running, and I have great social life with the other Leonardo apprentices, especially since moving into a flat in Edinburgh.
What are your career aspirations?
For the next few years, I'm focused on learning as much as I can from the various engineering roles across Leonardo and completing my degree. After that, I'd like to move into a permanent role to develop the skills I've learned, aiming to eventually run my own team and progress to a senior position within the company.
What do you enjoy most about your apprenticeship, has anything surprised you?
As a Design Engineering Graduate Apprentice, the best part for me is getting to move around the business. This is great as it gives insight into how our products are developed, from conceptual designs all the way through to production. It's awesome to be able to work on such complex pieces of engineering such as radars and advanced targeting devices. I have been surprised at how quickly apprentices are trusted with major responsibilities; it's great that Leonardo gives you lots of room to develop whilst also providing all the necessary support when needed.
Is there anyone that you would like to thank, or that you'd say has been the biggest influence on your success?
The apprentice network within Leonardo is a massive part of the apprenticeship experience. I think that because you are coming into the business with lots of others who are in the same position as you, you find it really easy to make new friends and this makes the transition from high school into the world of work very comfortable and enjoyable. As well as the other apprentices, the placement managers always ensure that you are enriched with all the opportunities that will help to develop you as a young engineer.
* Leonardo is one of the supporters of the Arkwright Scholarships, providing sponsorship to 16-18 year old students through their studies.