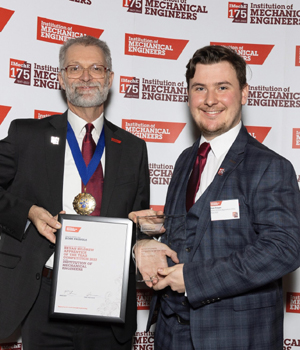 The prize is awarded annually to an apprentice who can demonstrate outstanding commitment to their continuing development whilst also making a positive difference to their employer and the wider community. Ross was selected due to his contributions to revitalising our onsite additive manufacturing facilities, as well as his creation of development opportunities for a new generation of engineers at Leonardo.
Additive manufacturing is considered as the future of engineering design, allowing engineers to manufacture better performing parts with less wastage of material through 3D printing techniques. Over the course of his apprenticeship, Ross became familiar with 3D printing, using this approach to help him better understand the mechanics of the technology he was working on.
During the national Covid-19 lockdowns, Ross was given the freedom to conduct research projects and this was when he identified the opportunity to purchase more 3D printers on site to spread the use of additive manufacturing across a wider number of departments.
Ross has also previously innovated a sustainable engineering project that proposed the reuse of aerospace materials. He was passionate about continuing to find opportunities to pursue sustainable engineering at Leonardo, and took the initiative to organise the installation of 3D printers, establishing a clear step-by-step process for engineers to follow on site, so they could quickly become familiar with additive manufacturing.
Ross said: "Enabling more engineers to gain hands on experience of using additive manufacturing allows them to be more sustainable, as they can instantly start work on developing cost effective engineering prototypes. The optimum engineering design has to be identified before you take any action and that means by the time you start using the 3D printer, you've already removed the need to rework. So it isn't just sustainable engineering from the point of view of minimising waste, it also reduces rework because you're bringing forward the tough decisions right from the get go, filtering out failures before they impact a project."
Read more about Ross's time with Leonardo, and his work volunteering for mountain rescue team, 'Search and Rescue Dog Association' (SARDA).