In November 2006, international cricket introduced new technology – as part of the Ashes Test Series in Australia – in an effort to deliver accurate umpiring decisions.
BBC Sport's 'Hot Spot' was designed to enable a third umpire to review a dubious decision on screen, by using an infra-red imaging system to determine whether the ball has struck the batsman, bat or pad. Trials continued in the following years, before BBC Sport introduced a new generation of Hot Spot, underpinned by Leonardo's SLX Hawk thermal imaging camera, in 2012.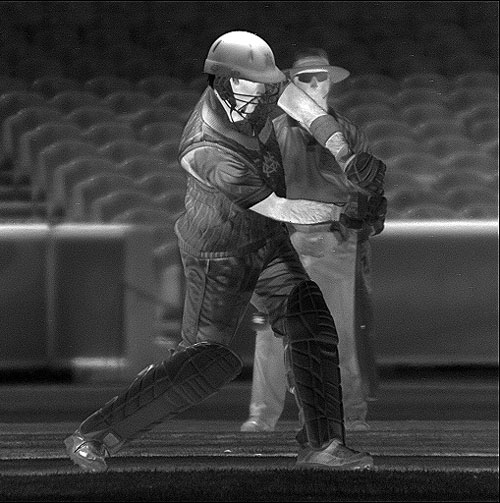 The Leonardo cameras provided sharper images with improved sensitivity and much less motion blur than earlier Hot Spot technology, resulting in the new system detecting much finer edge touches than in previous seasons. Such has been the success of the technology, that Leonardo now has an exclusivity agreement into which it now provides the Horizon HD thermal imaging sensor.
Beyond the field of play
In 2013, the BBC also revealed the power and value of Leonardo's thermal imaging sensors by adapting them to bring a new perspective to their wildlife documentary series.
Stuart Ashley, Project Chief Engineer at our Basildon site, explains: "The wildlife side of things started when the BBC were filming The Great British Year at Stow Maries, a disused airfield at the time, near Basildon. We heard that they were filming and offered to bring along one of our cameras to demonstrate its night time capability. It was challenging. At least two operators were needed, with someone to point the camera, and someone else to control it from a laptop, all running from large heavy car batteries. However, the imagery the SLX-Merlin camera provided was unlike anything they had seen before and the camera instantly became a feature of multiple episodes of the series".
SLX SuperHawk and Merlin cameras enabled The Great British Year team, and teams working on AutumnWatch, to capture previously unseen nocturnal animal behaviours around the UK. this included footage of owls hunting, as well as badgers, foxes, hares, rabbits, bats, voles and flying squirrels all going about their lives under the cover of darkness.
Due to its all-weather capability, the technology delivered high quality images, regardless of weather conditions or time of day. Producers also used the SLX Hawk camera for spotting and cueing the cameramen.
"Following its success, and subsequent requests for the camera, we developed a more practical filming system to wrap around the SLX-Merlin. Using the same field recorders and batteries as other professional camera systems, along with a tablet to control it, we held the whole thing together with bespoke metalwork and cabling. A compact, easily portable filming system was produced. It could be operated without the support of Leonardo personnel, and could be taken all over the world for filming in almost any conditions," recalls Stuart.
In 2016, our thermal imaging cameras went on to deliver even more dramatic scenes, capturing award-winning footage of leopards hunting in Mumbai, as part of Planet Earth 2, presented by Sir David Attenborough. The cameras have since been used in further Attenborough-narrated BBC documentaries, including the Seven Worlds, One Planet series, where they captured footage of European wolves, and Dynasties, in which they helped document a famous pride of lions in Kenya's Masai Mara.
In order to adapt the equipment for these unique filming environments, Leonardo developed the SLX SuperHawk into a media industry product, with an aim to make the whole system portable and easy to use.
"Feedback from the customers and camera operators has helped refine each version of the equipment," observes Stuart. A touch-screen tablet was added to the back of the imager to control the focus, zoom and gain, while a miniature video recorder was mounted on top, to allow the operator to work alone and cause minimal disruptions to wildlife.
In 2019, Merlin and Horizon cameras were used as part of another BBC wildlife documentary, Inside the Bat Cave, which captured the flight sequences of Greater Horseshoe bats, using thermal imaging. Leonardo's Ian Baker, a specialist in filming bats using thermal cameras, joined the programme's crew at Bryanston in Dorset. Using an exposure time of 1/1000ths second to reveal details in the bats (that fly at up to 5 m/s), combined with powerful noise reduction software, the BBC team was able to reveal previously unknown behaviour and physiology. This included discovering that pups and adults can be distinguished from their thermal patterns.
Thermal Imaging technology plays a role in many areas of our lives, from live sport and nature television programmes, to military operations, border control, and space exploration. At Leonardo, experts working at our Southampton and Basildon facilities, to manufacture InfraRed detectors and Thermal Imaging sensors, are helping to keep us safe and expand our knowledge of the world we live in, and beyond.