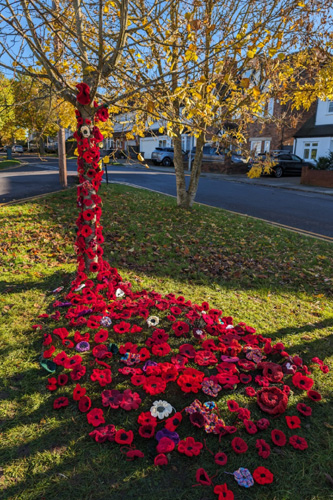 Over several months, this group created around 300 knitted poppies to create a beautiful tribute to those we remember. Colours included: traditional red, purple for animals who were lost, white for civilians and pacifists, and rainbow poppies to honour those from the LGBT+ community. The poppies were attached to a tree on a small grass triangle, a focal point for the neighbours, and have drawn lots of interest from people of the town.
Explaining the inspiration for the display, Fiona said: "I saw a picture online last year of a tree with a cascade of poppies, and wondered if we might be able to recreate it in our road; we have many 'crafty' neighbours in the road, as well as many who'd never knitted or crocheted and wanted to learn. Our first meeting rapidly became a teaching session, and it was wonderful to see all these new friends helping each other and getting inspired. It's been very moving to see new friendships made, and triumphs shared when a non-knitter has made something slightly wobbly – but still precious and beautiful. Even if only three poppies were donated, they are all unique and special, and added to this group artwork. One lady made over 70!
"Remembrance Day is very significant for me, especially having lost friends and relatives to conflict, and I hoped we'd make a start on a display that could grow over the years as we add more poppies. I truly didn't expect everyone to get so inspired that we'd create something so amazing. The display is drying ready for safe storage and plans are already afoot for making it bigger and better next year."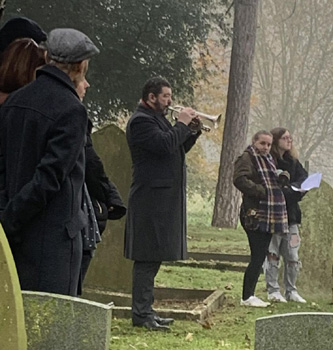 Elsewhere, our Head of Capability (Electronic Warfare Integrated Mission Solutions), Mark Neasham, played the Last Post for his local Remembrance Day service – something he does every year with great pride.
We thank all those colleagues who took time on Armistice Day and Remembrance Sunday to pay their respects to the fallen.