The UK is rightly proud of having one of the world's most innovative defence technology industries, producing cutting-edge equipment for the UK Armed Forces. Increasingly however, these advanced technologies are finding use to counter increasingly sophisticated criminal and terrorist threats.
Leonardo UK, the second largest supplier of defence equipment to the UK Ministry of Defence, is already offering variants of its proven military products specifically tailored to supporting police and homeland security operations. At Security & Policing 2023, the company is briefing attendees on how its technologies can be used to help counter two of today's most pressing concerns for security forces: the threat of rogue drones to public safety and the pernicious activities of illegal people-smuggling gangs employing small, hard-to-detect boats to cross borders.
AI vs People Smuggling
Organised immigration crime has been identified as a high priority for a number of police and security organisations around the world, not least in the UK where 45,756 migrants entered the country via small boats in 2022 alone.
With this in mind, Leonardo has been considering how some of its sensor and AI technologies could be combined to face this challenge. Part of this effort has involved asking questions like: can we detect a small boat while it is in the English Channel?; can we predict when small boats will attempt to cross?; and, can we predict from where on the far coastline the small boat is likely to be deployed? Engineers quickly realised that AI could play a key role in answering these questions.
The development process has seen Leonardo bring together a range of sensors including its NERIO ultra long range thermal imaging camera with its X2030 C5i (Command, Control, Communications, Computers, Collaboration and Intelligence) package, all plugged into a new rapidly deployable Artificial Intelligence (AI). The idea has been to produce an AI-driven capability which can rapidly detect and track maritime threats and automatically alert users.
Progress has been fast and, in September 2022, the Leonardo team behind the project spent a week on Britain's south coast equipped with a number of core system elements to capture the data needed to further develop this new capability. The team recorded information on multiple classifications of vessels in the English Channel that they are now using to train the AI engine behind the system.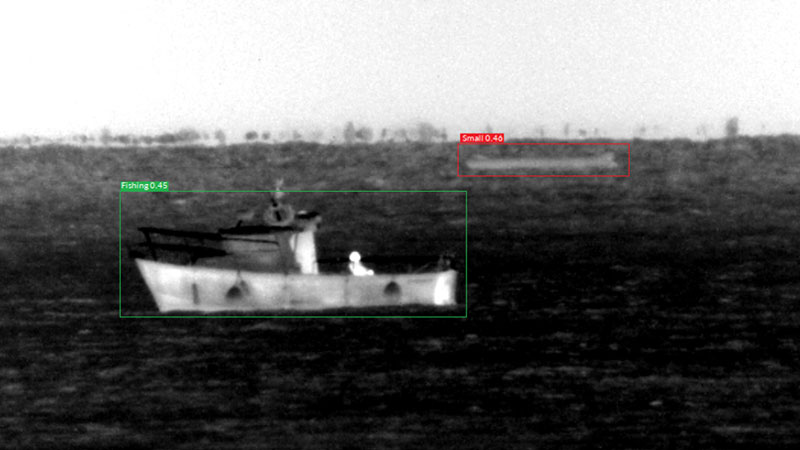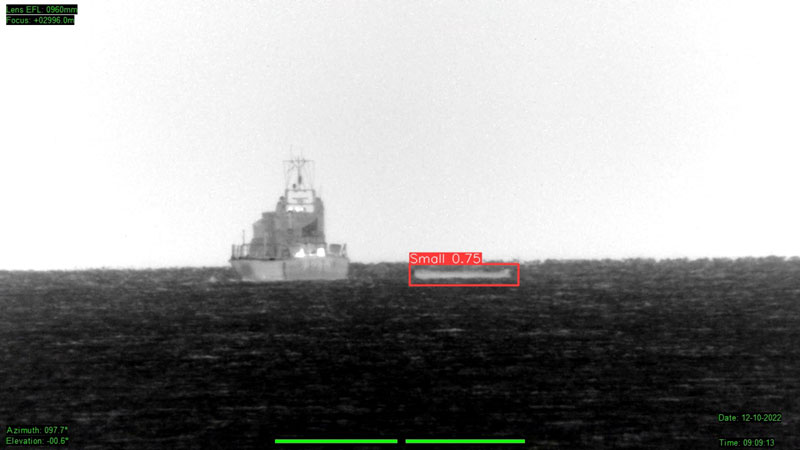 Now at an advanced stage of development, Leonardo is working towards a product which can be used to protect forces, bases and ports, to protect critical infrastructure and facilities where maritime areas need to be monitored. This new product will be used to identify, predict and track vessels during border protection operations and to protect fishing waters from vessels that are not permitted to fish within them.
Counter-drone
Another major security issue is the threat posed by rogue drones; with technology that is cheaply and widely available now, this presents a major challenge for airports, prisons and military bases. The issue of rogue drones leapt into the public consciousness over Christmas 2018, making headlines during the 33-hour closure of Gatwick Airport due to a series of drone scares.
On that occasion, the Royal Air Force (RAF) was able to deploy Leonardo's UK-produced counter-drone system 'Falcon Shield'. Originally designed to protect air bases, Falcon Shield accurately detects, tracks, identifies, geo-locates and mitigates rogue drone threats. The RAF was able to use the system to confirm the absence of drones and allow air operations to resume unhindered.
Since then, Leonardo has continued to work with the RAF in the counter-drone domain and has delivered the ORCUS system as part of the force's Synergia research and development programme. ORCUS is also being used as a national standby capability in support of Emergency Services. Applications of Leonardo's counter-drone capability have included the G7 summit in Cornwall in 2021 and the Birmingham 2022 Commonwealth Games.
The company is now ready to offer a tailored version of the Falcon Shield system, designed to be legal for police and other civil services to operate in the UK and beyond. By de-coupling the 'detect, track, identify' system elements from the military system from the electromagnetic attack capabilities which would not be legal to operate in the civilian sphere, Leonardo believes they can offer a proven drone surveillance system that would be a valuable tool in the kit of any police force looking to improve their counter-drone capabilities. The company is also able to integrate existing, in-service counter-drone capabilities, including hand-held defeat systems, into the Falcon Shield system, adding to the layered defence against rogue drones.
Dr Simon Harwood is Director of Capability at Leonardo UK