A heritage built at sea
Since first seeing service in the 1970s, as a mechanically-scanned radar on-board Royal Navy Lynx aircraft, Seaspray has gone through a series of major advances to establish itself as the radar of choice for the maritime sector, while also being able to support other domains.
"Seaspray was originally used by the Lynx helicopters in a maritime role, helping protect the fleet from potential adversaries," explains Leonardo's Head of Radar Campaigns, Wayne Smith. "But we took Seaspray forward by introducing Active Electronically Scanned Array (AESA), which extended it from being a maritime technology to a multi-domain radar."
E-scan provides several benefits to users compared with mechanically-scanned radars, including multi-tasking on modes, a wide field of view and maritime air-to-air and overland functionality.
"When the Seaspray 7400E was integrated onto the AW159 Wildcat helicopter – the follow-up platform to the Royal Navy Lynx – it provided not just class-leading maritime capability, but also overland modes such as radar mapping and tracking moving targets, enabled by E-scan. Thanks to the varying sizes of radar scanner available, we can provide a greater range of options for a variety of platforms," adds Wayne.
The largest of these options, the Seaspray 7500E, has become the maritime radar of choice for Sierra Nevada Corporation (SNC) maritime patrol aircraft programmes. It has been integrated on King Air 350ER aircraft by SNC for a number of their US and international customers including US Customs and Border Protection (CBP) Air and Marine Operations which conduct aerial patrol and surveillance over land and water, and for enforcement relocation of personnel and equipment.
"We have enjoyed a long-standing relationship with Leonardo and are honoured that many US and Foreign Government customers continue to entrust us with their mission-critical surveillance aircraft requirements," said Tim Owings, Executive Vice President of SNC's Integrated Mission Systems business area."
Continuous investment in technology
While Seaspray has seen ongoing technological updates over the past four decades, it has also benefited from significant performance and functionality enhancements in the last year, with the introduction of new processor and receiver technology for all AESA variants.
"From both a military and search & rescue perspective, the 'V2' surveillance enhancements we've made to Seaspray are huge – including significant range increases of certain critical modes, improving maritime detection, greater SAR resolution and increasing track handling capability which allows the radar to cope with a high number of targets. These improvements are available for fixed-wing, rotary-wing and unmanned air system (UAS) platforms," says Leonardo's Head of Radar Capability in the UK, Euan Walker.
"Furthermore, as well as operating at a higher altitude and over longer distances, Seaspray can still perform against those short-range challenging targets, such as life rafts and dinghies in very high sea states"
In a maritime environment featuring long-distance and persistent surveillance missions, the benefit of having the vastly increased reliability and flexibility of a Seaspray AESA solution over a mechanical scan solution comes to the fore, with the availability of the sensor over a long duration. This is made possible by the AESA solution using hundreds of individual transmitter-receiver modules, unlike a mechanical radar which has a single high power, highly stressed transmitter receiver.
"As a result, AESA radars enjoy 'graceful degradation' of performance, with much higher tolerance and therefore greater reliability than mechanical radars," adds Euan.
Multi-platform integration
Following the successful V2 enhancements, Leonardo is now working with customers to transition them to the updated system. With approximately 200 Seaspray AESA radars in operation around the globe on large, medium and small platforms – covering fixed-wing, rotary-wing and UAS – there is an opportunity to demonstrate how their capability and reliability can be further enhanced to perform their range of multi-domain Intelligence, Surveillance and Reconnaissance (ISR) roles in both military and civil arenas.
"Although the Seaspray V2 still has the same antenna technology on it, we've upgraded the back-end software to get so much more out of it," says Wayne. "For fixed-wing platforms, we're working with existing and new customers to upgrade their aircraft and mission systems."
Meanwhile, when it comes to a rotary-wing platform, the Royal Navy Wildcat's operational life has been "transformed" in comparison to its predecessors, thanks to Seaspray, according to Leonardo Radar Operational Capability Manager, Stan Hargreaves.
"Historically, in order to identify small targets, Lynx operations had to be flown at times as low as 50-100 feet above the sea, even at night, and the radar would have to be spun very fast to try and detect someone in the water or submarine periscopes. Nowadays, aircraft can generate the surface picture rapidly, standing off at up to 50 nautical miles and at higher, safer altitudes. This provides significant advantages to the operational user, since operating at low level can be incredibly dangerous, impacts the engines which require a thorough clean after each sortie due to their proximity to the water, and puts the helicopter and crew in harm's way from small arms fire."
This E-scan radar's major operational improvements in small target acquisition, combined with stop and stare electronic scanning at a very high update rate of around 5,000 RPM, make these the "crown jewels" for an operator, explains Stan.
"Seaspray is able to see through the 'clutter' and pick up really small targets. In terms of Royal Navy training exercises, such as the weekly 'Thursday War', this means generating a recognised maritime picture can take as little as 15 minutes, rather than two to three hours, which was the case previously."
"The key to further exploiting the 'information advantage' given by the Seaspray is its integration into the Wildcat tactical processor and wide screen HD displays," emphasises Leonardo Experimental Test Pilot, Nick Wharmby MBE. "This allows a crew to rapidly assimilate the radar picture in maritime, littoral or land domains in relation to other environmental, sensor and external sources, rather than in isolation. These capabilities, coupled with Wildcat's versatility, performance, digital flight control system and handling qualities, allow it to use the radar to its maximum effect, leading to high tempo tactical advantage and threat reduction at all phases of an operation. Whether over land or sea, from high level stand-off ranges to low level NOE Strike Coordination and Reconnaissance (SCAR) missions, the Wildcat and Seaspray combination is battle-winning in my opinion."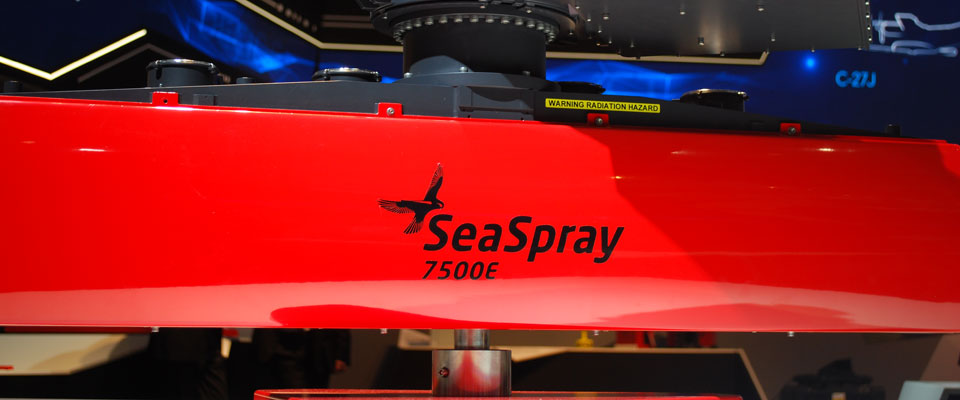 With growing demand for Seaspray on unmanned platforms, Leonardo is working with General Atomics to offer the Seaspray 7500E as an E-scan option on the MQ-9B remotely piloted aircraft.
"MQ-9B has been selected by the UK, as well as by Australia and Belgium, so we're working with General Atomics to integrate the Seaspray 7500E v2," says Wayne.
This will be particularly relevant to General Atomics' SEAGUARDIAN variant for customers using it in a maritime role, since MQ-9B aims to perform over-the-horizon long-endurance, medium-altitude Intelligence, Surveillance and Reconnaissance (ISR) missions.
Service and Support
As such missions become more operationally prevalent, confidence in the radar's durability and availability is vital. This is where Leonardo's Customer Service and Support Solutions (CS3UK) team adds value, explains Leonardo VP Sales - CS3UK, Ian Hayhoe.
"Designing and delivering support solutions which are optimised to our customers' needs is our priority. By focusing on this, we help maximise the Seaspray radar's through life operational capability. This approach is enhanced by providing customers with access to operational, collective and mission training services. Furthermore, our investment in digital toolsets maximises radar availability and suppresses operational support costs."
Leonardo's continuing commitment to investing in Seaspray will ensure that customers globally benefit from the leading multi-platform maritime surveillance solution on the market, whether it is being used on fixed-wing, rotary-wing or UAS platforms.