The changing threat environment
The threat to today's aircraft transcends borders and traditional theatres of operations and is continually becoming more sophisticated, more indiscriminate and more lethal. Historically, the most advanced threats to aircraft have been posed by nation states. However, as some of these countries have failed, many technologically advanced systems, such as infrared guided missiles, have fallen into other hands around the world, meaning the threat goes far beyond what was originally assessed.
To address these infrared threats, there is a critical need to step up the traditional approach that previously used a cocktail of flares as countermeasures. That is no longer enough for today's most advanced threats; we now need a new level of defence to help ensure our forces can successfully deliver operations on the frontline and return personnel home safely.
Superior protection
A Directed Infrared Countermeasure (DIRCM) provides far superior protection for aircraft by overwhelming a missile seeker head with a sudden and massive stream of coded laser energy. But not all DIRCMs are equal. Nor do they offer the same level of protection. Developed over several decades, Leonardo has the industry-leading knowledge in both laser technology and the advanced targeting accuracy to bring it to bear.
"It's not just about having the protection at any point in the missile fly out, but having a system that can neutralise a threat as soon as it is launched," explains Leonardo's Tom Nash. "That's what Miysis can do; from the point of launch, before the threat has even begun to think about where the aircraft is and how it might get there, we're disrupting what it's doing."
Standing out from the crowd
Miysis DIRCM has several core features that distinguish it from its competitors, says Nash.
"The first is its use of time and energy. Against the latest generation of Man-Portable Air Defence Systems (MANPADS) and/or multiple shots, it has been demonstrated that the faster, the better and the higher the energy, the better. Our system's exceptional speed and energy have been demonstrated in the UK by the Ministry of Defence's live MANPADS firing trials. Furthermore, Miysis's tri-band laser energy is without compromise on laser firing time; the laser can deliver its energy continuously until the threat is defeated.
"This has been independently verified by the defence science and technology communities of our end-users through extensive analysis and live fire trials."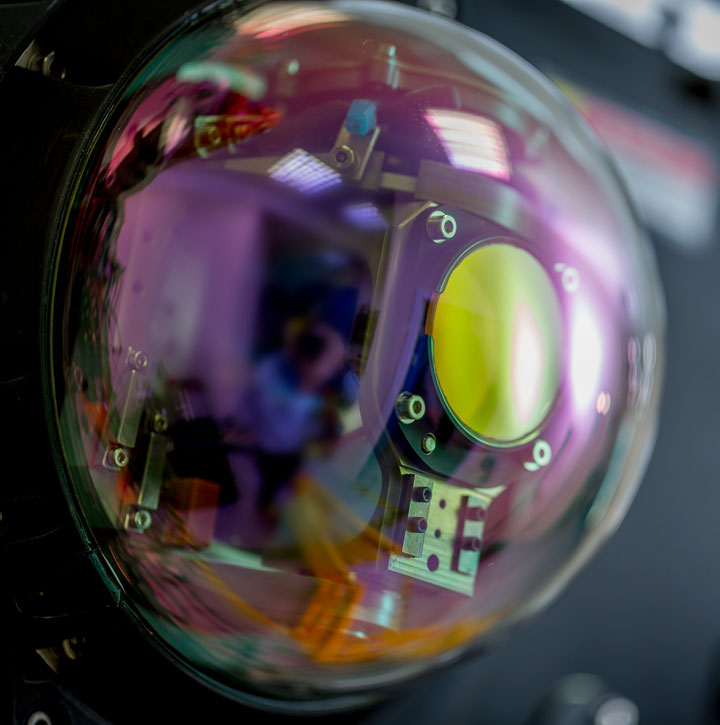 The second core feature, adds Nash, is its fully synchronised multi-head operation, which enables Miysis DIRCM to always take the safest approach. "Designed from the start as a multi-head system, the pointer trackers are fully synchronised and have been coordinated by Leonardo's team of electronics engineering experts so that if a threat passes from one head coverage area to the other, it is passed seamlessly, including handover of the jam code sequence. If only one threat is present and can be seen by multiple DIRCM heads, the heads jam with a synchronised jam code."
The final core feature of the Miysis DIRCM is its open architecture, which allows it to operate in conjunction with any suitable Missile Warning System, either standalone or as part of an integrated defensive aids system. "This means it can easily plug into a larger integrated DASS architecture, such as that provided by Leonardo for the on-shore UK DASS solution or, if the customer requires, existing architectures already installed on platforms," says Nash. "This is consistent with the growing trend in avionics to move away from proprietary sealed black boxes and architectures."
"Collectively, the approach of 'Jam Early, Jam Hard' is a reliable threat defeat against modern advanced MANPADS," adds Leonardo UK's Senior Vice-President, Radar and Advanced Targeting, Mark Stead. "Given that Miysis is compact enough to be used on a light utility helicopter, and can also provide more than enough energy for a large transport aircraft, this DIRCM system has established itself as the market leader and a product that an increasing number of end-users are looking to procure."
Rapid Servicing and Maintenance
In addition to its advanced technology and ease of integration across multiple platforms, Miysis's hermetically sealed dome means that maintaining and servicing it is very straightforward.
Through the ground maintenance mode, all the alignment and checkout activity for a DIRCM can be done outside the hangar, rather than having to be towed to the far corners of an airfield. Miysis houses all the DIRCM moving parts within its hermetically sealed dome, removing ingress routes for dust and water. This has simplified regular ground maintenance, ensuring the dome is clean with a cloth.
"The operational end-users say how easy Miysis is to fly with and operate, while the maintainers and engineers vouch for how easy it is to live with and maintain," says Tom Nash.
An accelerating market
With Miysis DIRCM being suitable for any size aircraft platform, Leonardo is seeing evermore interest in its technology, from military and civil parties, including helping to protect head of state air platforms. Canada and UK have been using DIRCM systems for more than 15 years, and their selection of Miysis DIRCM is instructive. More and more nations are becoming increasingly aware of the threat posed by advanced MANPADS and, crucially, what makes a great DIRCM.
"We're very excited about the future," Mark Stead, adds. "Leonardo has a rich DIRCM heritage which spans over 30 years. We have built an unparalleled capability in Edinburgh and I am proud that the UK and its NATO allies are choosing to protect their people and aircraft today and in the future with the Miysis DIRCM. On military fleets, there is increasing interest, particularly from the UK with the selection for the Shadow aircraft. Hopefully this will be a precursor to other DIRCM modernisation efforts in the fleet."