The Hub Yeovil provides support and training to empower the lives of people with learning disabilities and autism, helping each individual to achieve their own personal independence, support their community and work together.
Leonardo's Harry Parsons, a Transmissions Graduate, and Amber Willcock, a Second-Year Business Administration Apprentice, were motivated to establish the tour when they learned about the work of The Hub. The team coordinated the most striking elements of the business into one interactive tour that gave the young people unique access to the company's helicopters.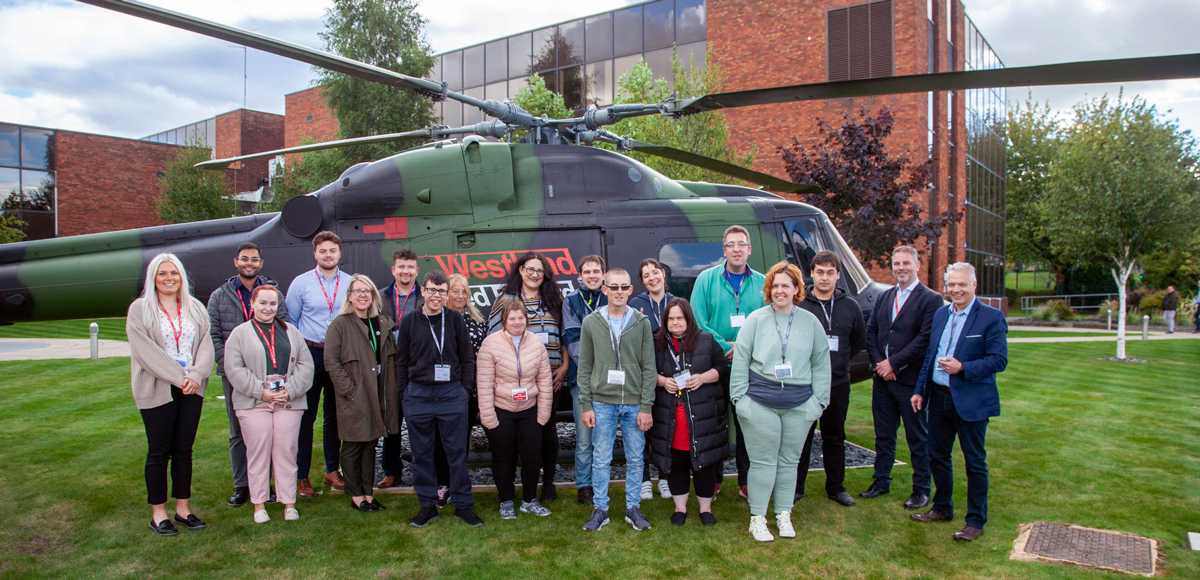 Stuart McCabe, Head of Transmissions at Leonardo, is also a Director at The Hub Yeovil. He spoke about why the charity is important to him. "My personal involvement in The Hub was initiated through my daughter Annabel, 25. I have first-hand experience of the incredible support they offer those living with learning disabilities and autism, as well the families. This experience has made me passionate about breaking down barriers and understanding how individuals can grow and feel more empowered if they are given the right environment."
Ken Comber, CEO at The Hub Yeovil, added: "The Hub Yeovil's trainees were excited to see Leonardo helicopters like the AW149, AW159 and AW101 close-up. Working closely with organisations like Leonardo enables our trainees, who have learning disabilities or neurodivergent challenges, to gain confidence in a workplace environment and push themselves to step out of their comfort zones so that they can lead independent lives. We hope these tours are just the beginning of a long relationship between us and Leonardo."
The charity seeks to build its members' confidence in a safe environment to help them realise their maximum potential in a way that supports them. For example, the charity's facility in Yeovil supports 66 adults through a café and scrapstore, which enables The Hub trainees to learn life skills.
Harry Parsons, Transmissions Graduate, who grew up in the local area and joined Leonardo's graduate scheme in September 2021, said: "It was an amazing opportunity to work with trainees from The Hub, where those with learning disabilities and autism get to meet, master new skills and move forward in the safe environment created by the charity.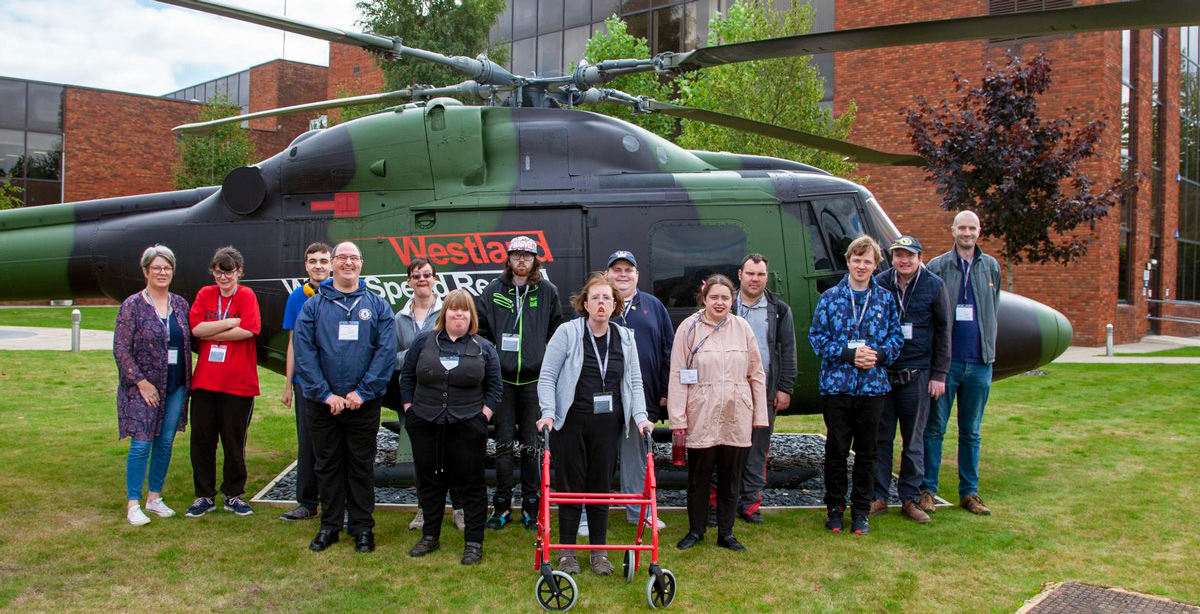 "Over the space of three weeks, we organised three tours of our site for The Hub trainees, to gain a better understanding of what we do at Leonardo and to continue to build a meaningful relationship with the charity and our local community."
Amber drew enormous satisfaction from The Hub's response to their visits. "We made sure the learning centre was adapted to suit their requirements and walked through all the routes to ensure they were easily accessible," she explains. "On the visits themselves, it was brilliant to see The Hub group's immediate responses to our environment – we get so used to it ourselves but I felt like I saw it through their eyes. They got so involved and really did understand the technology and got really excited. One trainee who was really keen on the helicopters, wanted to learn as much as possible."
Commenting on the trainees' efforts, Stuart said: "Harry and Amber impressed me with their maturity, understanding and compassion for these young adults. But it wasn't just about their natural empathy; they had the ability to talk with everyone in an informal way, so our visits were neither intimidated nor overpowered by the experience. Harry and Amber accepted their needs and worked with them and it made me feel so proud of them adapting in that way. They have spread the word to their colleagues at Leonardo and the trainees have decided to visit one day a week for six weeks to work with the young people at The Hub."