When did you join Leonardo?
I studied physics at the University of Nottingham and joined the graduate programme in 2002 as an electronics engineer. Since then I haven't looked back! I've taken on a number of different roles, from electronic circuit design, product integration and environmental qualification to multi-disciplinary engineering management. In all of these roles, I've had the opportunity to work on different sites, with different customers and suppliers, and to see different elements of the engineering lifecycle.
What are your main tasks as the Support and Service Solutions (S3) UK Engineering Innovation Lead?
Working within the S3 line of business, I lead a team whose skills range from data science to application development, business analysis to customer focused design, and together we're designing and delivering a suite of digital products for our customers, both within the company and externally. Our data-driven web and mobile applications create an enhanced experience for customers, partners and suppliers; automate data acquisition; deliver real time visual insights anytime and anywhere; and create end-to-end supply chain integration.
Tell us about your typical day
Digital development is a very fast moving area of engineering, not only in terms of the technology, but also in terms of the ways of working, so every day brings new challenges. We work closely with our customers, and I regularly run Design Thinking workshops with customer groups to find out what causes them problems in their daily work and where we can add value to them. These insights then form the basis of our product development, where we use Agile methodology to create prototypes in an iterative manner, gathering customer feedback as we go. The final stage is to then turn these into deliverable, secure products, and for this, we also work with experts from other parts of our company and suppliers.
My days are all very different, but might include:
Planning reviews with the team to assess priorities and progress
A technical solution brainstorming session to turn a customer idea into a prototype capability
One to one meetings with my team members to discuss personal and technical development
Visits to suppliers and conferences to explore app and cloud technology trends
Travelling around the UK to visit customers
What related activities are you involved with outside your specific job role?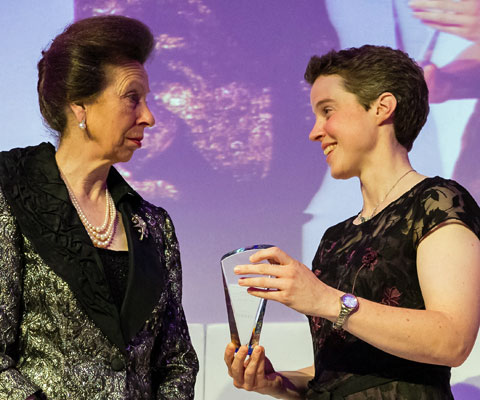 I'm fortunate that I can find time to lead our outreach programme, working with schools and educational charities to promote engineering careers to young people. It's really rewarding to deliver a talk or engineering activity, and see the impact that you're having on the future of those students. Hopefully one of them will be responsible for continuing the improvement of our business in years to come!
It was such an honour to win the WISE Inspiring Young People Award 2015, and fantastic to receive recognition for all of the work that both myself and my ambassador team have done to make our outreach programme the success it is today. Working with young people and watching them develop their skills, knowledge and confidence is rewarding in itself, but this award has been the icing on the cake.

What do you enjoy about working at Leonardo?
The work at Leonardo is varied and challenging, and there is always a new problem to solve. During my time with the company, I've helped to design and develop defensive aids systems for the Eurofighter Typhoon aircraft and the Wildcat and Apache helicopters. Having heard first-hand from pilots how our equipment has helped to save their lives and those of their crews, I know that what I do every day makes a difference and really can affect the lives of our customers and end-users.
Read Kris's article entitled 'Change The World – Become an Engineer!'