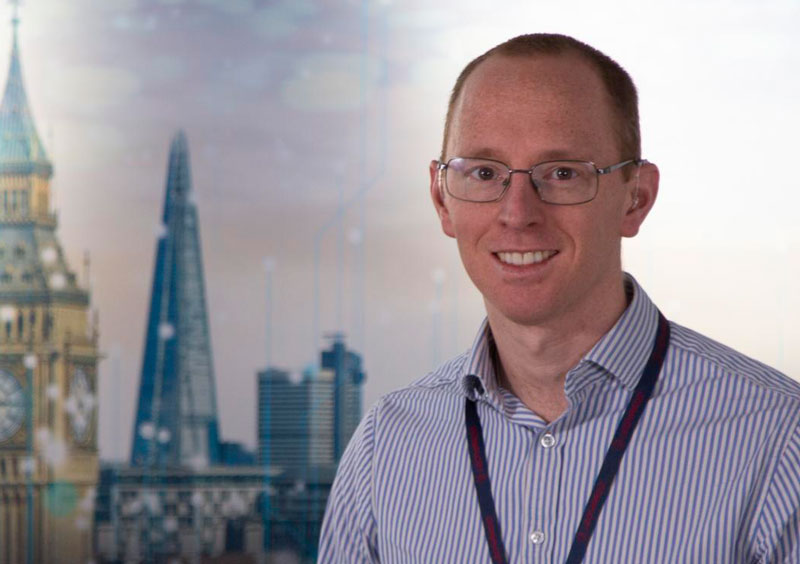 Today, Max Wigley plays a senior leadership role in Leonardo's cyber security business, working with internal and external stakeholders around the world. But it's a significantly different picture to the one from 2012 when he started working in his previous company while also completing his PHD.
"I noticed that I was struggling to hear my supervisor and some of my colleagues," recalls Max. "I just thought they were quietly spoken. However, I quickly realised it was me who couldn't hear what was going on, and it really negatively affected my work. I was asked to take notes in meetings, but too scared to admit I couldn't hear properly. This led to me making the notes up or not writing them accurately. As a result, and quite rightly, my performance at work was starting to be questioned."
A visit to the doctor led Max to discover that a genetic condition had caused his hearing loss. "When I got my hearing aids, it was absolutely transformative. People, such as my manager, began to realise why certain things had happened, but had never actually mentioned it. Maybe there's a bit of a stigma about it, because nobody then says 'oh, you've got hearing aids'. As a result of being able to actually hear what was going on – and therefore doing my job to the best of my ability – I ended up being promoted three times in two years."
Although initially self-conscious about wearing hearing aids, Max admits he's "not so bothered about appearance; I'm more concerned about whether people are confident about what I'm doing. Once I got over the whole 'what will people think of me wearing hearing aids?', which luckily for me didn't last very long, I was fine and just had to get used to not losing or dropping them. On occasion, if they break, it scares me quite a lot, since I can't hear anything."
Confidence is key
Based on his own experiences, Max encourages others to be confident in their abilities and who they are. "I would really urge anyone who is deaf not to shy away from telling others what you need in order to succeed. In meetings, I often have to ask people to speak up. While hearing aids are great, not all rooms have hearing loops.
"Don't be afraid to ask for help or for people to adjust their behaviour. For example, if someone mumbles, let them know you have hearing problems and ask them to speak more loudly. Anyone who judges you unfavourably because of your disability is not worth the time of day, in my opinion. In my experience, 99.9% of people at Leonardo and in the wider world of work will take account of what you're saying. But if you don't say anything – in terms of what support you need – it may end up making you look bad, since you may be seen as incompetent. People can't judge you on your motivation; they can only judge you on your behaviour. And if you don't ask, it will appear to people that you don't understand or you're not good at your job, so you need to be confident to specify what you need from work."
Max adds that when telling people what you need and why you need it, they will generally be supportive. "Most people who get into managerial or senior leadership positions want the company to succeed and therefore want you to succeed," he maintains.
The importance of lip-reading
The nature of Max's role means that he interfaces with colleagues in Italy on a regular basis. But it was not until the Covid-19 pandemic, that he realised how much he relies on lip-reading.
"With people wearing masks, I found it really difficult, especially in meetings with Italian colleagues and deciphering what people with strong Italian accents were saying," says Max. "It led to me asking people to repeat themselves. Eventually they understood the need to speak more loudly than they might usually, in order for me to hear everything that was being said. It made me realise that perhaps I over compensate when speaking to Italian colleagues; I probably annoy them by speaking really slowly and they may think I'm talking down to them, but it's actually a reflection of my need for them to speak slowly to me."
Supporting colleagues with hearing difficulties
Like any difficult conversation with a colleague, Max believes that the approach should be of asking open questions in a friendly way and encouraging people not to be afraid about talking about this type of thing. "If I suspected someone in my team might not be hearing everything that is being said, I don't think I'd ever ask someone outright whether they had hearing problems," he explains.
"This extends to other topics, such as mental health too. While in some ways I'm quite lucky because my disability is pretty visible as a result of my hearing aids, many others have disabilities that are invisible. That doesn't mean you should be any less confident about talking about it. Don't be afraid to tell people. People don't know how to support you to be at your best if they aren't aware of what you need to achieve that."
The Enable network group, of which Max is a member, provides a mechanism through which people can ask for help, he adds. "This is an area where Enable could help people – in terms of understanding how to have these conversations and delivering the necessary and most appropriate support. It's really important to provide an environment where they feel able to talk honestly and not feel like they'll be negatively judged for what they say."
This is backed up by Enable Chair, Mark Conn, who says: "All the network groups are here to help, but people need to be confident about seeking any support they need. The company can then help them individually much more than they perhaps realise."
---