Infra-Red Man Portable Air Defence Systems (IR MANPADS) present a difficult threat for aircraft to counter since they are widely proliferated, can be fired from almost anywhere, have a high lethality and can reach their target in just a few seconds. In order to defeat this threat, countermeasures must be very fast, reliably effective and automated.
Enter the DIRCM.
What is a DIRCM?
A Directed Infrared Counter Measure (DIRCM) uses a sophisticated laser to disrupt the incoming IR 'heat-seeking' missile's ability to commence, continue or reacquire tracking on an aircraft's heat signature. This disruption results in the missile missing the aircraft, ultimately saving the mission and bringing the crew home safe.
Why a DIRCM?
As the threat has continued to evolve, the countermeasures have needed to evolve in parallel. Earlier generation MANPADS would lock onto the exhaust plumes of aircraft, which was countered by deploying expendable, quantity limited, flares.
These flares work based on the principle of presenting a brighter and hotter signature to seduce the missile away from the aircraft. This has led to the latest MANPADS developing greater sensitivity that could differentiate a flare from a sustained heat source, such as an engine. As a result, other parts of the aircraft can be tracked, not just the exhaust plume.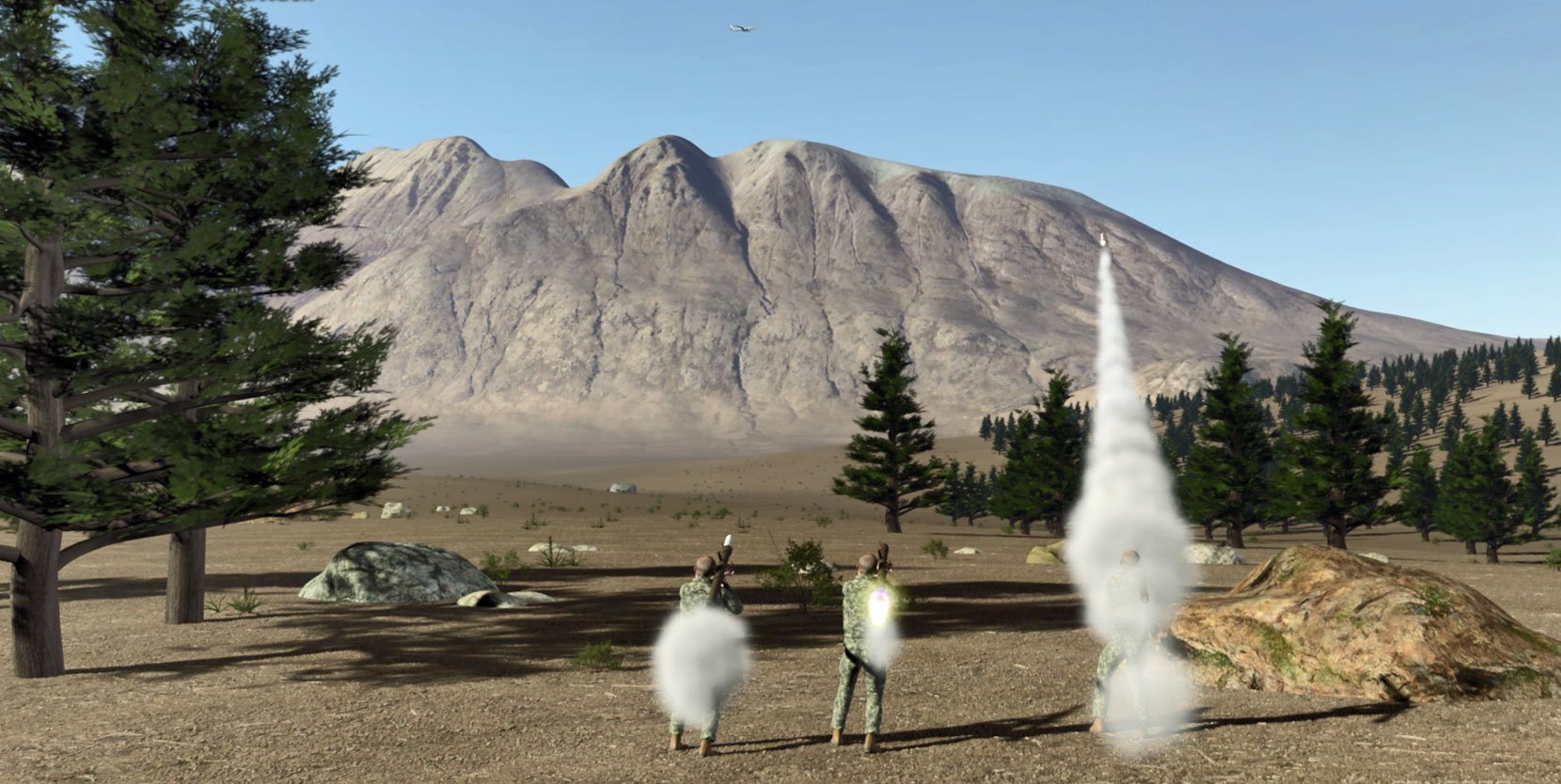 In addition, traditional flare solutions have become more complex to dispense, are limited to the amount that can be loaded on the aircraft and their carriage can be prohibited at civilian airfields.
Adversary tactics have also developed, with high-value targets most likely targeted by multiple MANPADS simultaneously, and therefore a faster countermeasure response is required to defeat multiple, concurrent threats.
With a laser energy source embedded in a highly agile enclosed turret system, a DIRCM can be infinite in duration and provide protection for the whole mission, keeping aircrews safe even in dense threat engagement environments.
Multi-head to defeat a multi-threat
Leonardo's DIRCM philosophy is to 'Jam Early, Jam Hard'. Whereas flares are omnidirectional, a DIRCM focusses a beam of light directly at an incoming missile. However, that beam of light needs to:
Be able to have line of sight to the missile – a DIRCM with a twin or triple turret system allows for multiple threats to be countered simultaneously, no matter how the aircraft may be manoeuvring
Be able to track and engage in a very short space of time – MANPADS can be supersonic in less than a second after firing
Emit significant laser energy power to disrupt the missile seeker for long enough so the missile is unable to acquire, re-acquire or track the aircraft
As soon as an aircraft manoeuvres, or there are multiple missiles fired, a DIRCM system must be able to react. As such, strategic positioning of multiple turrets is critical to ensuring the ultimate protection of the aircraft, aircrew and mission.
Introducing Miysis – Leonardo's multi-turret DIRCM
A DIRCM is occasionally seen as a 'nice-to-have'. At Leonardo, we would argue that it is now a 'must-have' in order to operate safely in the unstable world's lower airspace, and in particular, the take-off / landing phases of flight – the heart of the MANPADS's threat environment.
With the proliferation of advanced, sophisticated MANPADS and a continued need to operate (both militarily and civil) anywhere in the world where the exact threat location is unknown, Leonardo's Miysis DIRCM continues the company's world-leading expertise in the development of laser technology and protection systems. It provides a small, discrete, multi-turret yet exceptionally powerful solution to ensure the survivability of any air platform, aircrew and mission from advanced IR MANPADS threats.
Find out more about the Miysis DIRCM and the dedicated Leonardo team passionate about bringing people home safely in the articles below.
Download the Miysis DIRCM brochure
---