Last year, Leonardo's flight operations team in Yeovil flew more than 870 hours across several different types of helicopters, including the AW159, AW149 Common Platform Demonstrator, Super Lynx and AW101. The syllabus for Leonardo trainee FTEs includes basic aviator skills, human factors and aircraft familiarisation courses, alongside postproduction flight test experience via mentored coaching, and is seen as industry-leading by the UK MOD Military Aviation Authority.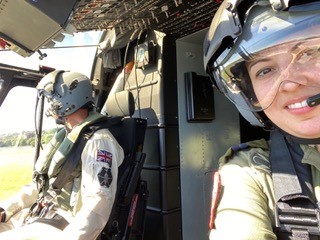 Earlier this year, we were delighted to support a visit from Marina, a Canadian Flight Test Engineer who is studying at the International Test Pilot School based in Ontario, Canada. She was able to gain experience on some of the platforms built at our Yeovil site. Marina visited the engineering simulators and conducted a Qualitative Evaluation flight on the AW101 Norwegian All-Weather SAR Helicopter, also known as 'SAR Queen'.
We also recently welcomed new trainee FTE, Kealey, who joined Leonardo's Graduate Scheme in 2018. Having completed her first phase in qualifying as professional aircrew, she will now progress through to Phase 2, which will include qualification to operate in the cockpit of our AW101 helicopter, and then in the cabin and cockpit of other Leonardo helicopters. She joins Ben and Josh who passed their qualifications at the beginning of the year.
"It's an exciting time!" says Kealey. "I am now certified to go and work in the cabin of the AW101 helicopter on my own, it means I can supervise passengers, operate avionics and complete flight test tasks without supervision from a senior FTE. I am trained to deal with emergencies as required," she explains.
"Being an FTE is a varied role. We are required to work with a variety of systems on the aircraft to provide feedback to specialists across engineering as well as operate as aircrew."
Choosing Leonardo for the next step in her career was an easy choice for Kealey, being the UK's only end-to-end helicopter manufacturer. We offer a vast range of opportunities, and Flight Operations provides a broad view of all engineering disciplines.
"I am looking forward to sitting in the left-hand seat of the cockpit and adding more responsibility to my portfolio." Kealy adds. "There are opportunities to travel abroad on trials, where I will support the pilot and the crew to operate the aircraft in different environments. This brings about new challenges which will be great a learning experience as I progress in my career."
At Leonardo, we are committed to promoting gender balance within our industry. We are steadfast in our aim to be a welcoming and inclusive place to work for all of our people. We continue to strive to build a culture where individuals can thrive, feel safe and perform at their best, no matter their gender or background.
Chair of Leonardo's Gender Balance Network Group, Helen Allen, explains the importance of equality and of barrier-breaking role models such as Ada Lovelace.
"We want to see more women in our industry, and in STEM in general. Not just as unsung heroes, but with recognition for all they contribute. Ada Lovelace Day give us the chance to do just that, for the women doing amazing things in STEM today and throughout history.
"At Leonardo, we support all initiatives that improve the visibility of women in STEM roles, where they continue to be underrepresented. It's fantastic to see more women taking up FTE roles here in Yeovil, where I'm also based, and exciting to think that we are building upon the work of trail-blazing female scientists like Lovelace."